Member of the Family by Dianne Lake
Author:Dianne Lake , Date: November 9, 2017 ,Views: 1435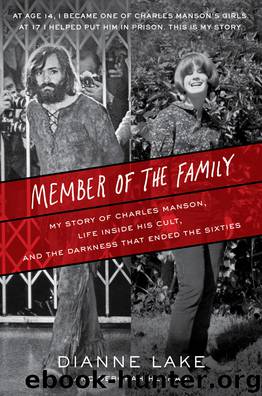 Author:Dianne Lake
Language: eng
Format: epub
Publisher: HarperCollins
Published: 2017-09-10T04:00:00+00:00



14
SPAHN RANCH
THE NEXT PLACE WE MOVED TO BECAME OUR BASE FOR MUCH OF MY time with the Family: Spahn Ranch.
Spahn Ranch has become so deeply connected to the stories of the Family that it's hard to separate what it actually was with what it has come to represent. When our bus first drove through Chatsworth and the Santa Susana Pass sometime in late May 1968, I was concerned that we were moving farther and farther into the middle of nowhere. As much as I enjoyed nature, I didn't like the feeling of being so far away from civilization. Lynette must have seen my expression or was tuning into my thoughts because she smiled and said, "Oh, it won't be so bad. It'll be fun."
When we pulled into the dirt drive, it was like moving through a time warp. The place looked like something out of an old Western. If you didn't look behind the facades you could imagine yourself as a pioneer, part of the real America expanding its territory after the Civil War. The best part was, the facades were attached to buildings. They weren't just false fronts supported by wooden posts. I forgot all about my concerns as we got out to look around. The place had a boardwalk and horses roaming free. Charlie disappeared into the main house to talk to the owner of the place while the ranch hands regaled our bus full of mostly young girls about how at the height of its usefulness the ranch had been the setting for the TV shows Bonanza and Zorro. I tried to visualize it as it must have been, but as we surveyed the landscape, it looked run-down, as past its former glory as its blind cowboy owner, George Spahn. The ranch was no longer used for the movies and television, except on a few occasions.
Charlie came out of the house with George, a big man with a Texas drawl that may have been created for the role of ranch boss. He wore a cowboy hat and dark glasses to protect him from the sun he likely hadn't seen for many years. It was obvious that George Spahn was not a weak, vulnerable man. He was cowboy smart, and it took all of Charlie's charm and con-man know-how to convince George to let us stay there. Charlie told him we were a musical group in search of a place to crash, but he purposely didn't tell Spahn how many of us there were or how many more there would be. Still, I am convinced Charlie didn't pull anything over on old George. George knew what he wanted to know. Charlie offered him girls to help take care of him, and built into that offer was taking care of whatever he wanted or needed for himself. Old George might have been old, but he was still quite interested in the kind of help Charlie offered.
The little house was separate from the other buildings, and when we walked in,
Download


Copyright Disclaimer:
This site does not store any files on its server. We only index and link to content provided by other sites. Please contact the content providers to delete copyright contents if any and email us, we'll remove relevant links or contents immediately.