Lie by Penelope Sky
Author:Penelope Sky , Date: April 6, 2021 ,Views: 36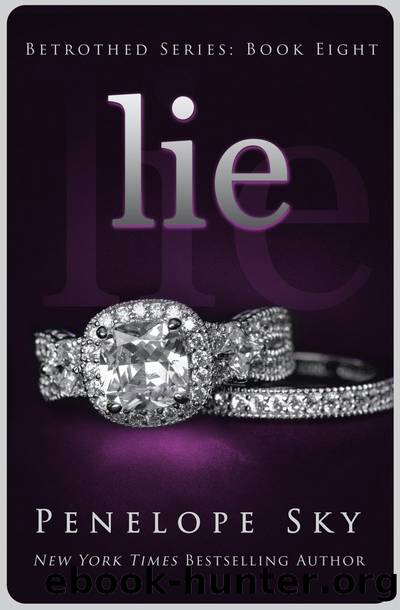 Author:Penelope Sky
Language: eng
Format: epub
Publisher: Penelope Sky



We sat together for hours, saying nothing, and by the time it was almost one in the morning, most of the people had already left. My friends went home because I was obviously busy, and the only people who remained were the people who hadn't found anyone or who had nothing to go home to.
He pulled his face away slightly to look me in the eye, which he hadn't done much since we were so close together. "You look beautiful." His hand slid across my cheek and into my hair, keeping it from my face so he could take a good look at me.
"Thank you."
"I miss being able to look at you." With his intense gaze, he showered me with his focus, looking at me in a way every woman dreamed about.
"Me too."
"How are you?" He asked the question like we were friends, like he cared about my well-being, like he had been thinking about me even when we were no longer in each other's lives.
"It took a long time for me to get out of the house. This is my first night out…"
"And how did it go?"
"Rough in the beginning. But it ended pretty great." My hand squeezed his thigh. "How about you?"
"Fine."
"Releasing those girls cause any problems…?" He told me it would be complicated because of the reaction of his men, because of the way his operation ran, but if there were problems, he probably wouldn't tell me about them.
"I had to change their business plan and it's taking some time, but I think it's working. Now I have to do it with everyone else…"
"What do you mean, everyone else?"
He held his drink with one hand. "They aren't the only business in the city…"
My mind tried to process what that meant. "So, you intend to stop them all?"
He nodded.
I was speechless for a moment. "You're doing that for me?"
"No. I told you I feel differently about it now."
"But that's because of me…"
He never replied.
I leaned into him and placed a kiss on his neck, my attraction deepening. His actions didn't vindicate his crimes, didn't fix what he did to Damien, but it still resonated all the way down to my soul. "Thank you." We'd been holding each other close all night at the bar, but Heath hadn't asked me to go home because he assumed my answer was still no.
I wasn't sure what my answer was anymore.
He finished his drink and left the glass on the table. "I should go." He sat still for a moment, not pulling away, like he was waiting for me to object. "Do you want me to walk you to your car?"
I was disappointed that he was going to leave, take his touch away and give it to somebody else, but there was no other outcome for us. Without really thinking about what I was saying, I answered. "No, I'm parked right outside." I'd managed to grab a spot at the curb right outside the entrance.
He was still for a while, not knowing what to do other than leave me there.
Download


Copyright Disclaimer:
This site does not store any files on its server. We only index and link to content provided by other sites. Please contact the content providers to delete copyright contents if any and email us, we'll remove relevant links or contents immediately.