Make Her Dreams Come True: A Contemporary Erotic Romance Novella by Joey W. Hill
Author:Joey W. Hill , Date: August 9, 2020 ,Views: 737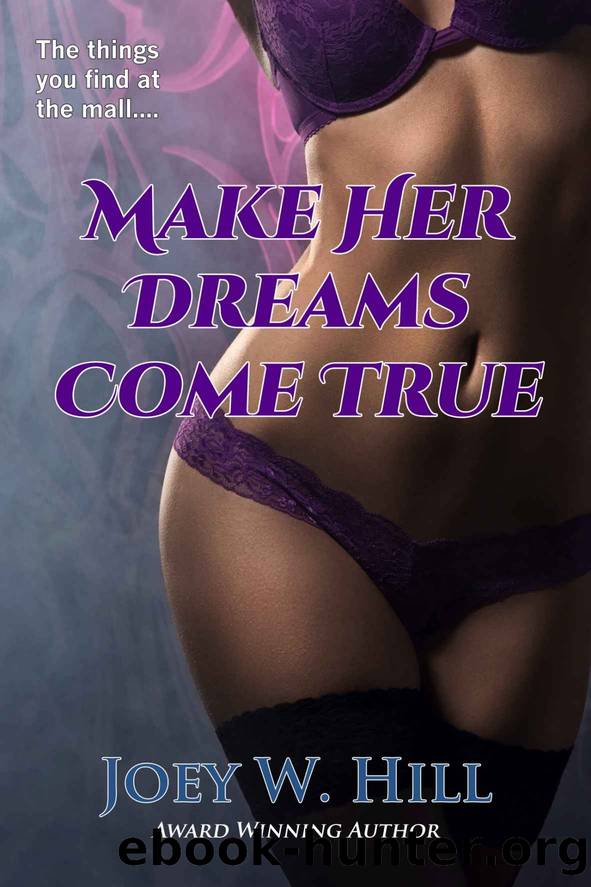 Author:Joey W. Hill
Language: eng
Format: mobi, epub
ISBN: 9781942122388
Publisher: Story Witch Press
Published: 0101-01-01T00:00:00+00:00



* * *
"You don't have to pay me back for that," Daniel said. He held her cone and drew her to the low tile wall around the wishing well, where she'd first seen him. "I'll consider it an investment. How did you make the connection between them?"
Meg shrugged. "I was sitting in the food court earlier today. It was just something about them. They kept glancing at each other, when each one thought the other wasn't looking. They were so alike, both so quiet and serious. I watched them and kept thinking both of them have dreams, but life is beating them down, making them lose faith. Do you think one amazing, unexpected moment of decision can kick start your life when it seems like it's stuttering?"
He lifted her chin, met her gaze squarely. "I hope so, Meg." He rubbed the line of her jaw. "I think people have a hard time letting go of certain types of pain. They think they've got it all under control, but that pain has a way of resurfacing, drowning them in the container of self-preservation they've built for themselves."
She lifted a shoulder in a mute, neutral movement, but the madness squirmed, bringing nausea.
"I think," he continued, his rich voice flowing into the troubled lands of her mind, "people need each other, just as Robin needed you in that moment. People need someone in their life they know will be there when darkness comes, someone who'll help them back into the light, not just once, but every time the darkness of pain pulls them down and tries to suck them into despair."
"Every time?" She stared into his fiery eyes.
"Every time." He pinched her chin. "We work too hard at 'curing' people's pain. The body doesn't like pain, nor does the mind. It'll take care of it when it's ready. A scarred person doesn't lose the scars. They learn to look at them, accept the changes that scar wrought and go on. Forgiving yourself and letting yourself start over each time is the hardest part."
Meg's eyes wandered back to the food court, where Robin was staring thoughtfully at Pizza By The Slice. "It's easier if you think you're with someone who cares unconditionally. Sometimes just knowing you have someone to share your dreams with can give you the courage to enjoy them."
He gestured with the ice cream. "Speaking of enjoyment, this is starting to melt."
"Oh, sorry." She bit off the last syllable at his expression. "No apologies. I forgot. Where do you want to eat it?"
"Here." He brought her to the tile wall and lifted the back of the skirt as she lowered herself to the marble. The cheeks of her ass pressed against the cold surface and the spray of the fountain misted her skin. Daniel sat next to her and stretched his arm along the rail behind her, putting her in the shelter of his chest and arm. He held out the cone. "Eat."
Meg started to nip the top off the cone, but he drew it out of her reach and ran a finger up the stretched line of her throat.
Download


Copyright Disclaimer:
This site does not store any files on its server. We only index and link to content provided by other sites. Please contact the content providers to delete copyright contents if any and email us, we'll remove relevant links or contents immediately.