Kozart by J. Nathan
Author:J. Nathan , Date: January 20, 2023 ,Views: 16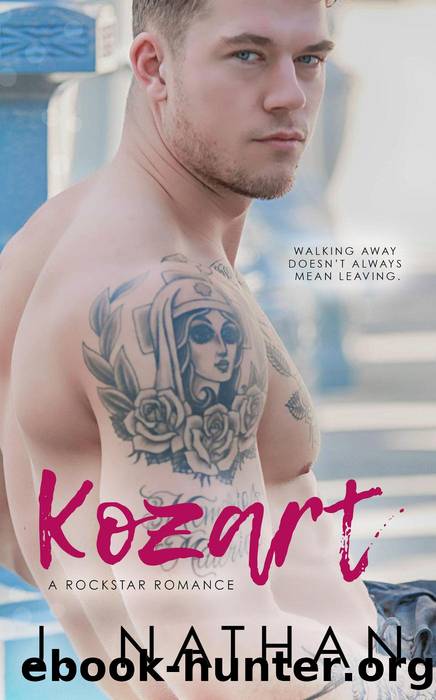 Author:J. Nathan
Language: eng
Format: epub
Tags: Rockstar, Rock Star, New Adult Romance, Rockstar romance, new Adult rockstar romance
Publisher: J. Nathan
Published: 2019-07-10T00:00:00+00:00



CHAPTER SEVENTEEN
Aubrey
We spent the remainder of the day curled up on the sofa in front of his fireplace. Kozart in basketball shorts and me in a Savage Beasts T-shirt he gave me. My head lay on his shoulder while his arm kept me tucked perfectly into his side. Most of the time was spent in comfortable silence. I wondered where his thoughts lay, since mine were on the minutes ticking down until I knew I'd have to leave.
"When are you gonna sing me my song?" I asked.
"I already sang you your song."
"Not to me."
He said nothing for a long time. "I've never sung a song to anyone before."
"Yeah, right."
"I haven't. I've sung for small crowds, but not a song specifically for someone."
"Would you feel uncomfortable doing it?"
He said nothing, and I wondered if he worried about stuttering in this type of situation.
A few minutes passed and he began humming the beginning of the song into my ear. The vibration sent a delicious shiver skimming down my spine. I thought that's all I was gonna get until he softly began singing the lyrics. Each word meaning so much more than the lyrics other people heard when listening to the song. These sentiments were directed at me. These were Kozart's honest feelings about being unable to sleep without me.
"I love my song," I said when he finished singing. "Thank you for singing it."
"I wish you loved my songs," he said with a smile in his voice, though I knew he wished I was a rock chick.
"I love that you sing them. I just don't feel them the way I feel when you sing something like you just did to me."
He nodded. "I get it. I just don't like it."
"I'll tell you what. When you put together your next album, let me hear the songs first."
"You wanna be my producer now?"
"No, but you know I'll be honest with you."
He laughed.
"Speaking of honesty..."
I felt his body tense. "I'm listening," he said warily.
"I really don't like double cheeseburgers with mustard."
Laughter burst out of him. "Then why'd you order one?"
"You threatened to throw me out if I got a salad. And I really didn't want you to throw me out."
"Thank you for being honest."
"So, you won't kick me out if I like salads?"
"I will not kick you out if you like salads. Tofu? Yes. Salads, no."
"I hate tofu."
"Good."
* * *
I lay in the backseat with my head on Kozart's lap. The weekend had been unbelievable but now reality was about to slap me in the face. With every town sign we passed, my heart grew heavier. We were getting closer to my place.
"So..." I said.
"You say 'So' every time you have something to say, but don't really want to say it," Kozart said, his fingers playing with my hair.
"You know what you do every time you don't want to answer a question? You laugh," I countered.
"Well, I'm glad to see we're both paying attention. Now, what were you gonna say?" he asked.
"I'm not needy. I swear."
"You're the least needy girl I've ever met.
Download


Copyright Disclaimer:
This site does not store any files on its server. We only index and link to content provided by other sites. Please contact the content providers to delete copyright contents if any and email us, we'll remove relevant links or contents immediately.