Killing Crazy Horse by Bill O'Reilly
Author:Bill O'Reilly , Date: September 14, 2020 ,Views: 593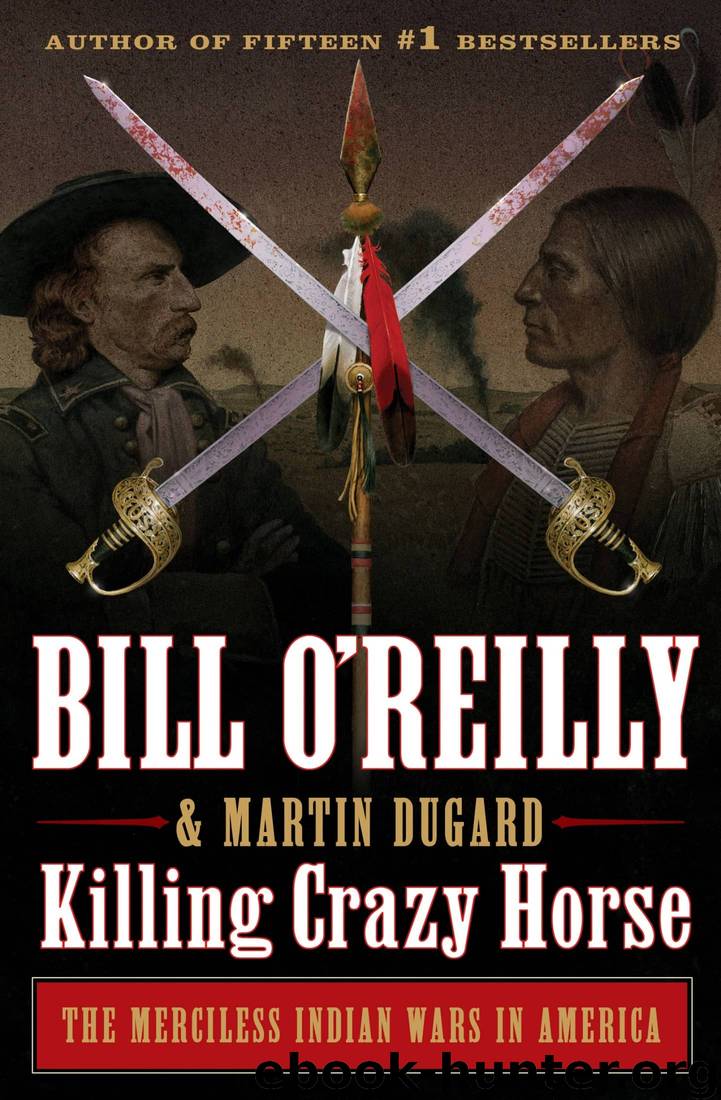 Author:Bill O'Reilly
Language: eng
Format: epub
Publisher: Henry Holt and Co.



Chapter Sixteen
NOVEMBER 27, 1868
WASHITA RIVER, OKLAHOMA
DAWN
Brevet Major General George Armstrong Custer is apprehensive.
The newly appointed commander of the U.S. Seventh Cavalry has slept just one hour on this frozen morning. His seven hundred troops have not been allowed to sleep at all. Instead, they spent the night in the saddle, dressed in boots and thick overcoats. Speaking in a voice above a whisper is forbidden. An Indian village has been located along the distant riverbank. Custer does not know the name of the tribe or whether they are peaceful. He does not care. This will be the young general's first engagement with an Indian force, and he aims to use the element of surprise to destroy them. Indeed, Custer has been so vigilant about maintaining silence that he has not allowed his men to pitch tents, light pipes, or even dismount and stamp their feet in search of warmth, believing the noise could alert the nearby tribe.
Custer rises from the buffalo robe laid atop the snow that briefly served as his bed. A thick beard covers his face, his blond hair covered with rime and icicles. The three years since the end of the Civil War have been a time of upheaval for the brevet general, who left the service for a time as he weighed a potential run for Congress and enjoyed the night life of Manhattan. Upon his return to the military in 1866, the nation was confronted by the massacre at Fort Phil Kearny. Railroad companies and stage lines were demanding the army provide better protection for western travelers. Some newspapers even accused soldiers of cowardice for allowing Indians to control the prairie. "As might naturally be expected, a massacre like that at Fort Phil Kearny," Custer will write in his autobiography, "… excited discussion and comment throughout the land, and raised inquiry as to who was responsible for this lamentable affair."
The violent actions of the Sioux nation were directly responsible for Custer's posting in Oklahoma. The brilliant battlefield tactics of Crazy Horse and subsequent call to arms by white settlers will lead to his new posting in Kansas as commander of the Seventh.
But Custer's ascent did not come easily, despite his heroics at Gettysburg. He was actually court-martialed four years later, in July 1868. The offense was deserting his post at Fort Wallace in Kansas, to be with his wife, Libbie, a society debutante whom he married in 1864. His sentence was a one-year suspension from the army without pay.
The Custers' relationship is deeply amorous, and the two are fond of writing steamy letters to each other, fraught with innuendo and sexual double entendres. In response to Libbie's written admission that she likes to "ride tomboy," Custer responds: "I'm nearly starved for a ride. But I cannot without much expense and much danger enjoy the luxury of such a ride as that I refer to. I never did enjoy riding strange horses."
Even before their marriage, the correspondence between George Custer and Elizabeth "Libbie" Bacon was so randy that Custer requested she be more careful.
Download


Copyright Disclaimer:
This site does not store any files on its server. We only index and link to content provided by other sites. Please contact the content providers to delete copyright contents if any and email us, we'll remove relevant links or contents immediately.