Jacques Vallee by Revelations
Author:Revelations [Revelations] , Date: February 25, 2018 ,Views: 1296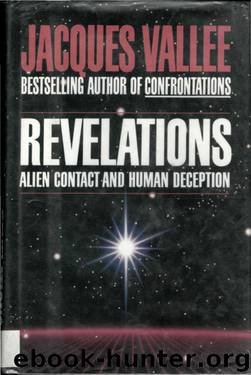 Author:Revelations [Revelations]
Language: eng
Format: epub
Published: 2012-01-04T10:29:10+00:00



R E V E L A T I O N S
man could not light his cigarette and found all his friends laughing at him! Huguet had to put him into a trance again to erase his posthypnotic suggestion. Convinced by this proof of the power of hypnosis, Prevost, who turned out to be an outstanding subject, agreed to submit to a full session.
Under the guidance of Daniel Huguet, Prevost recalled seeing the car driven by Franck, surrounded by a luminous sphere. There were voices that spoke, he said. They gave orders: " W e need him, we've got to take him away without hurting him . . . Hurry, some people are coming. . . . "
The people who were coming were Prevost and Salomon. The voice spoke French, slowly, with a woman's voice.
Had Prevost played a role, an active role, in the contact? wondered the investigators. As they left the apartment, the former anarchist commented: "Nothing will be the same anymore. Now I have to question everything."
Although he was impressed by the demonstration, Franck Fontaine still refused to undergo hypnosis. "They already think we're a little crazy," he commented. "If I told everything, I'd be sure to end up in an asylum!"
Guieu and Huguet left Pontoise after this session, convinced that Prevost and Franck were telling the truth but unsure about the future development of their investigation. Before saying good-bye, they recommended to the witnesses to keep up their vigilance about any signs, no matter how small or absurd, that might indicate that the extraterrestrials were keeping tabs on them.
In the early days of January 1980 Prevost traveled to the south of France with Franck and Salomon in a friend's car. They met with Guieu again and the investigation was resumed.
The first interesting observation that was made during their stay in the south concerned Franck, whose sleep patterns seemed to have been drastically affected by his experience. He would fall asleep in the middle of the day and nothing would wake him up. Another piece of new information concerned Salomon and Prevost, who claimed ominously 138
Download


Copyright Disclaimer:
This site does not store any files on its server. We only index and link to content provided by other sites. Please contact the content providers to delete copyright contents if any and email us, we'll remove relevant links or contents immediately.