Invention and Innovation by Unknown
Author:Unknown , Date: May 24, 2021 ,Views: 83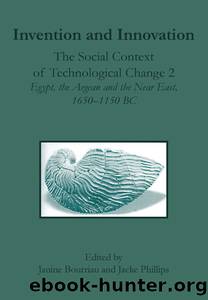 Author:Unknown
Language: eng
Format: epub
Tags: HISTORY / Ancient / General
Publisher: Oxbow Books, Limited
Published: 2004-01-10T00:00:00+00:00



Figure 6.5 Lever press from Ras Shamra, after Callot 1987, 208, Fig. 10. Drawing by Will Schenck.
Clearly, the effect of this development was potentially quite dramatic. Regardless of whether nḥḥ was sesame or olive, it is still evident that the inhabitants of Ras Shamra had developed a technology which could significantly increase production. Can it therefore be a coincidence that nḥḥ oil appears in Egypt for the first time concomitantly, and that one of the most common Canaanite amphorae fabrics found at the Workmen's Village at Amarna is that from Ras Shamra (Serpico et al. 2003, 374)? Its prevalence attests to the ready availability of this oil outside the royal enclave. References to nḥḥ oil become increasingly common thereafter and it was often mentioned as a ration for workers, and frequently exchanged as a commodity between them (Janssen 1975, 330–1). Notably, its description as a standard illuminant also suggests its widespread accessibility.
By the Ramesside period, another change appears to have taken place. At Deir el-Medina, inscribed storage jars allude to nḥḥ produced in Egypt, again implying that this oil was a recent Late Bronze Age introduction to Egypt. A number of jars carry the inscription, 'nḥḥ of the great orchard of ddw' produced for the temple (Koenig 1979, Pl. 1–11). Interestingly, the word used here for orchard is k3mw, the same word used in conjunction with wine production and translated in that context as vineyard. Ddw is usually translated as 'olives,' and the connection in this context to the word for orchard would also suggest that nḥḥ is more likely to be associated with olive trees rather than a crop plant like sesame (Krauss 1999). However, it should be noted that the relationship of imported nḥḥ to local nḥḥ is still unclear. It is also not known whether the new pressing technology moved to Egypt with the botanical source, nor is there any indication in the archaeological record of increased processing of oil sources during this time. Archaeological evidence for any type of press, whether for oil or wine production, is lacking. Although at first surprising, it is also true that many of the implements used are not exclusive to oil production. It would be difficult to attribute wooden poles, baskets, cloth bags, vats, mortars and pestles found on a site to such production and as yet, significant botanical debris which could suggest production centres has also been missing. It is possible that excavators in Near Eastern locations are much more sensitive to identifying remains because of the long history of oil production there.
Also interesting is an association between the ps sgnn and fat production. One Amarna jar docket mentions fat made by the ps sgnn (Pendlebury 1951, Pl. XCIV.258). This connection is not entirely surprising as fat could have been rendered in a similar fashion to wax and oil. After removal of any extraneous veining and membranes from the fatty tissue, the raw fat could be heated dry or in water and once liquified, mixed with water and left to stand until it separated.
Download


Copyright Disclaimer:
This site does not store any files on its server. We only index and link to content provided by other sites. Please contact the content providers to delete copyright contents if any and email us, we'll remove relevant links or contents immediately.