Into the Shadows by Jessa Keilitz
Author:Jessa Keilitz [Keilitz, Jessa] , Date: January 14, 2021 ,Views: 15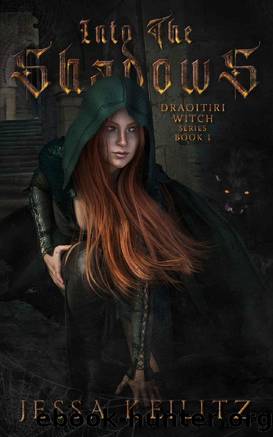 Author:Jessa Keilitz [Keilitz, Jessa]
Language: eng
Format: epub
ISBN: 9798611954904
Published: 2020-03-13T04:00:00+00:00



Chapter Eight
Carter knew that the time to act against the kingdom was coming. She could feel it in the air and in the bond between her and Aloriah. Something had shifted when she and the princess had escaped Aldenbrooke together. No matter what the people in the kingdom believed, either their princess had abandoned them or the Draoitiri had stolen away their crown jewel. Answers would have to be given and action would have to be taken sooner than later.
That's why she wasted no time gathering Aloriah along with her best warriors and thinkers the morning after her return. If they were going to stand a chance of moving forward with this rebellion, they were going to need a plan.
"This coven has been building its strength for many years," she started once everyone was gathered and seated at the dining tables. "We've learned to fight, created our own armor and weapons, scoped out every inch of the kingdom that we could...and now things are going to change whether we think we're ready or not. Seeing the magic of the device for myself and bringing Aloriah here...those actions have changed things. The time to act is now. We need a plan. We need to take down that device and free our people, and then start working towards uniting the mortals and the Draoitiri."
"Hasn't the plan always been to take back our homeland?" asked an older male witch named Quinn. "What's with this talk about uniting us with them?" He shot Aloriah a sneer with that last word.
Carter resisted her urge to snap at him as she explained, "I used to think that way, too. But Aloriah helped me understand that it doesn't have to be that way. We shouldn't have to choose between being wiped out or wiping them out. There are people in the kingdom who don't want us enslaved—the princess herself being one of them—and there are two generations of innocent people who had nothing to do with the previous war. We would be no better than those who chased our people from their home if we do the same to them."
"They won't want this," Quinn argued, shaking his head. "Maybe a handful of them, sure, but most of them will follow their king and queen. They're used to using our magic for their own benefit. What makes you think they'd ever agree to live in peace with our kind?"
"It won't be that simple, Quinn. Of course I know that. There may be a fight first and some of our people could be sacrificed. The last thing I want is for anyone to lose their lives, but if we win that fight, we get to choose what happens next just like the Aldens did last time, and we can make better choices."
"She's right," Avalon interjected. "We live off the earth and believe in respecting life and maintaining balance. If we retaliate with the same ferocity they first attacked our people with, we're no better than them. We'll be turning on everything we believe in for the sake of revenge.
Download


Copyright Disclaimer:
This site does not store any files on its server. We only index and link to content provided by other sites. Please contact the content providers to delete copyright contents if any and email us, we'll remove relevant links or contents immediately.