Hollywood's War with Poland, 1939-1945 by Biskupski Mieczyslaw B
Author:Biskupski, Mieczyslaw B. [Biskupski, Mieczyslaw B.] , Date: January 15, 2020 ,Views: 115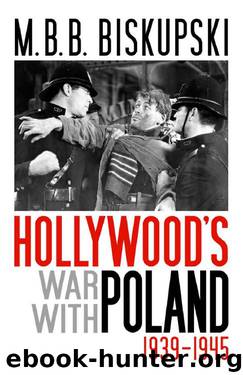 Author:Biskupski, Mieczyslaw B. [Biskupski, Mieczyslaw B.]
Language: pol
Format: epub
Tags: University Press of Kentucky
ISBN: 9780813125596
Published: 0101-01-01T00:00:00+00:00



Why Hollywood Was at War
with the Poles
how may we exPlain the inattention and hostility with which Hollywood treated wartime Poland? Hollywood's version of the war was a combination of the left-wing, pro-Soviet political sympathies of many of its leading figures and the preference of the U.S. government to present a depiction of the war that supported its policy predilections.
The screenwriters and directors of the films in which Poland is portrayed, most unfavorably, are a virtual gallery of the activist radical Left. John Howard Lawson, Lester Cole, Robert Rossen, Arthur Kober, Jay Leyda, Leopold Atlas, Guy Endore, Philip Stevenson, Lillian Hellman, and Sidney Buchman were members of the Communist Party.
Lewis Milestone and Howard Koch were later among the "unfriendly nineteen" of congressional hearing fame. Ellis St. Joseph, Dudley Nichols, Arch Oboler, Vladimir Pozner, and Anatole Litvak, among many others, were fellow travelers well known for their political activism.1
It is not surprising that several of the names closely associated with Hollywood's treatment of Poland—Koch, Lubitsch, and the Epsteins, among others—appear on the list of "key political activists in Hollywood" assembled by Ceplair and Englund.2 Even among the actors a pattern emerges: Edward G. Robinson is the Polish American failure who seems to have no relationship with Poland in Destroyer; Paul Henreid is the fatuous Polish failure of In Our Time; John Garfield is the mentally unstable Polish failure in flight school in Air Force. All were among Hollywood's most radical leftists. Similarly, Warner Brothers, 01
0 Hollywood's War with Poland, 1939–1945
the most ardently pro-FDR studio in Hollywood, specializing in "progressive" films, was responsible for the nastily anti-Polish In Our Time and Edge of Darkness, as well as for the shameless Mission to Moscow. 3
As Patrick McGilligan and Paul Buhle note, the "decidedly leftward"
atmosphere of wartime Hollywood was the creation not of a handful of Communists but of the far larger number who were "leftists," some of whom were "to the left of the Party," as well as liberals who supported
"the same political goals as Party members."4 The party was "the network" in Hollywood for all leftist elements, conclude Buhle and Wagner.5 It was an ersatz family for transplanted easterners and refugees; it gave meaning and structure to the lives of the Hollywood Left.6
The Left dominated Hollywood depictions of the war. Director André de Toth, himself a prominent leftist, noted that in the war era
"Hollywoodites went berserk. For a long while the stamp of 'fascist'
was a death warrant and 'communist' was the badge of honor."7 When W. R. Burnett, a key Warner Brothers screenwriter, was asked many years later whether he was aware of the Communist affiliations of colleagues like Lawson and Albert Maltz, he responded, "Are you kid-ding? We were loaded with card-holders in Hollywood."8 Lawson, the
"commissar," and a few fellow Communists controlled the Screen Writers Guild, which gave them considerable power.9 Sheridan Gibney, a declared leftist who said "I liked the Communists" in Hollywood, nonetheless admitted that they wanted to "use [the guild] as a weapon in the war."10 Allen Scott noted
Download


Copyright Disclaimer:
This site does not store any files on its server. We only index and link to content provided by other sites. Please contact the content providers to delete copyright contents if any and email us, we'll remove relevant links or contents immediately.