Hillary Unhinged: In Her Own Words by Unknown
Author:Unknown , Date: June 24, 2022 ,Views: 95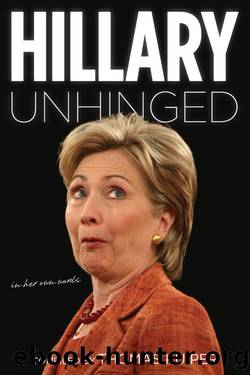 Author:Unknown
Language: eng
Format: epub
Published: 2016-07-07T16:00:00+00:00



"I didn't have the benefit of a Democratic Congress."
Senator Clinton's excuse for failing to deliver on her campaign promise to create 200,000 new jobs in upstate New York (Syracuse Post-Standard, 2006).
"I wanted desperately to be an Olympic athlete. I tried everything.… I couldn't jump, I couldn't run, I couldn't swim.… So I wrote to NASA and said, 'How do I sign up to be an astronaut?' And they wrote back very politely and said, 'We don't take girls.'"
Senator Clinton explaining that she was not talented to do anything else, so she chose politics (Newsday, 2006). The first woman astronaut, Sally Ride, is almost the same age as Hillary, so her story about NASA not taking girls has little credibility.
"Within and beyond their homes, adults must speak out against racial, ethnic, religious, or gender slurs."
Hillary explained in her 1996 book, It Takes a Village (page 188). When asked if she's ever used an ethnic slur, Hillary stated, "I've never done it; I've never thought it." In 2004, Senator Clinton joked that Mahatma Gandhi "ran a gas station in St. Louis." She was forced to apologize, calling it "a lame attempt at humor."
"All women who care about equality of opportunity, about integrity, and morality in the workplace are in Professor Hill's debt."
In a 1992 speech before the American Bar Association, Hillary Clinton praised Anita Hill, the woman who accused Supreme Court nominee Clarence Thomas of sexual harassment (Brock, The Real Anita Hill, 12). She also said at this function, "As women and as lawyers, we must never again shy from raising our voices against sexual harassment." Kathleen Willey is still waiting to hear if Hillary will speak out against her husband's harassment of women.
"We just can't trust the American people to make those types of choices … Government has to make those choices for people."
First Lady Hillary Clinton speaking to Rep. Dennis Hastert, R-IL, on whether citizens get to have a say in how to spend their money in her health care reform plan (Brock, The Seduction of Hillary Rodham, 334). Hastert wrote of this meeting with Hillary in his autobiography, "As Hillary Clinton once told me … people are basically greedy and won't make the tough decisions. They won't take their kid to the hospital when he needs to go because they want to keep the money for themselves." (Hastert, Speaker, 249)
Download


Copyright Disclaimer:
This site does not store any files on its server. We only index and link to content provided by other sites. Please contact the content providers to delete copyright contents if any and email us, we'll remove relevant links or contents immediately.