Hello Neighbor: Missing Pieces by Carly Anne West
Author:Carly Anne West , Date: August 6, 2020 ,Views: 323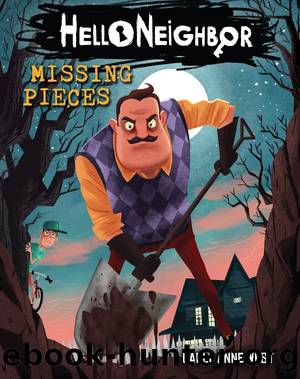 Author:Carly Anne West
Language: eng
Format: mobi
Publisher: Scholastic
Published: 2018-06-14T17:00:00+00:00



I throw a pair of pajamas into my backpack and forgo my toothbrush to make space for the audio manipulator. It's built, and all we need now is to add the prerecorded audio. I survey my bag's contents and decide that pretty much covers all I'll need.
Downstairs, as I slip on my shoes, Dad and Mom watch me a little too closely.
"Excited for your big sleepover?" Dad asks.
"Dad," I say, wincing.
"Sorry, your super grown-up, totally not-a-big-deal hangout where you might wear pajamas and might not sleep."
"That's not better," I say.
"Just remember to brush your teeth," Mom says, and I swear to the Aliens she can see straight through my backpack to my missing toothbrush.
"Uh-huh."
"And say thank you," she says. She's still irked that the Petersons haven't bothered to come by, but to her, "please" and "thank you" are holy words.
"I will," I say.
"And solve the mysteries of the universe," Dad says, and Mom gives him a look.
"What?"
"Are you implying that manners and hygiene are impossible requests of our son?"
"Lu, he's twelve. He's barely human at this age."
I decide to end things before they get ugly. "I'll say thank you," I tell my mom, and she smiles like she's won. "And I'll ponder the meaning of life," I tell Dad, and he gives me a dorky thumbs-up.
As I cross the street, I do ponder, but not about life's meaning. I wonder how in the world I'm going to ask Aaron about everything I read in the old newspapers about Golden Apple Amusement Park, about his dad and Mya. Because there's not even a sliver of a chance that I'll be able to stop myself from asking.
Download


Copyright Disclaimer:
This site does not store any files on its server. We only index and link to content provided by other sites. Please contact the content providers to delete copyright contents if any and email us, we'll remove relevant links or contents immediately.