Heaven Is for Real: A Little Boy's Astounding Story of His Trip to Heaven and Back by Todd Burpo
Author:Todd Burpo [Burpo, Todd] , Date: October 11, 2017 ,Views: 683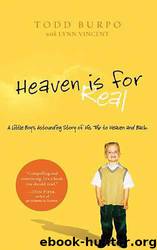 Author:Todd Burpo [Burpo, Todd]
Language: eng
Format: epub
Tags: Christian Life, Christianity, Religion, General, Christian Theology, Inspirational, book, Eschatology, Religious Aspects, Body, Near-Death Experiences - Religious Aspects - Christianity, Heaven, Colton, Near-Death Experience, Near-Death Experiences, Heaven - Christianity, Mind & Spirit, Burpo, Parapsychology
ISBN: 9780849946158
Publisher: Thomas Nelson
Published: 2010-11-01T22:00:00+00:00



But all I could think to ask was: "So what did the kids look like? What do people look like in heaven?"
"Everybody's got wings," Colton said.
Wings, huh?
"Did you have wings?" I asked.
"Yeah, but mine weren't very big." He looked a little glum when he said this.
"Okay . . . did you walk places or did you fly?"
"We flew. Well, all except for Jesus. He was the only one in heaven who didn't have wings. Jesus just went up and down like an elevator."
The book of Acts flashed into my head, the scene of Jesus' ascension, when Jesus told the disciples that they would be his witnesses, that they would tell people all over the world about him. After he said this, the Scripture says, Jesus "was taken up before their very eyes, and a cloud hid him from their sight. They were looking intently up into the sky as he was going, when suddenly two men dressed in white stood beside them. 'Men of Galilee,' they said, 'why do you stand here looking into the sky? This same Jesus, who has been taken from you into heaven, will come back in the same way you have seen him go into heaven.'"1
Download


Copyright Disclaimer:
This site does not store any files on its server. We only index and link to content provided by other sites. Please contact the content providers to delete copyright contents if any and email us, we'll remove relevant links or contents immediately.