Ghost Betweens by E. J. Krause
Author:E. J. Krause [Krause, E. J.] , Date: October 18, 2020 ,Views: 8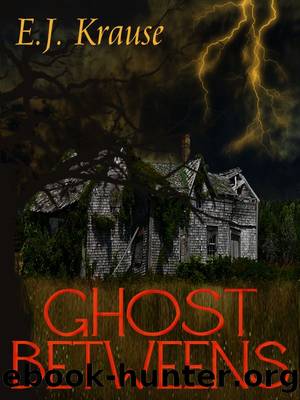 Author:E. J. Krause [Krause, E. J.]
Language: eng
Format: azw3
Published: 2012-04-21T16:00:00+00:00



Chapter 19
Josh hadn't slept well, but he rushed right out of bed and was even a bit early to school. He rarely saw Whisper, except occasionally in passing, before lunch, but he couldn't wait to see her today. Hopefully he'd find her before first period.
He planned to casually ask how the installation of her anti-ghost strip went, but he really wanted to see if she was still happy about their kiss yesterday. They'd been together until after seven o'clock last night when he decided he should get home before his mom. Her parents had hovered around quite a bit, like they sensed something happened between them and weren't about to enable a repeat performance. They had to make do with homework, occasional hand-holds, and a lot of shared smiles. Now, away from her parents, he hoped they could at least share a few quick smooches at school.
As he neared the parking lot and the usual line of cars waiting to pull in, something didn't feel right. He couldn't put his finger on it, but there was no doubting that it was supernatural. Did it have to do with the farm, or was it one of those random events Mr. Baxter warned them about? On the plus side, in his wonderings, the line to get in the parking lot seemed to take no time at all.
He headed to the far side of the lot where he always parked and couldn't shake the feeling. Now he really needed to find Whisper. She'd have to feel this, too, right? And maybe she'd already figured out what it was. For the life of him, he couldn't.
It didn't take long to find her. Her mom dropped her off almost right in front of him.
"Hi, Josh," Mrs. Douglas called out from her car, a little sporty four-door he hadn't seen before. She probably parked it in the garage.
"Hi, Mrs. Douglas." He gave her a wave.
"Have a good day, sweetheart. You, too, Josh." And with that she drove off. Whisper didn't say anything for a second. She watched her mom leave, and when the car maneuvered out of the lot, turned to Josh and gave him a deep kiss, just as he hoped she would.
"Hi," she said when she pulled away.
"Hi. You feel that?" He knew he wouldn't need to explain.
She nodded. "Since the school was in sight. What is it? I mean, apart from the obvious."
"I don't know. I was hoping you would."
"Maybe we should find Mr. Baxter. This feels big. He can't get mad at us this time, even though it's not after school."
They walked towards his class. He had first period off, so they weren't sure if he'd be there or not. He might spend his morning in the office or teacher's lounge. As they headed in that direction, Josh realized he was holding her hand. He couldn't remember when he'd taken it. Even better, as they walked, she leaned into him a bit.
They reached his room and dropped their hands to their sides.
Download


Copyright Disclaimer:
This site does not store any files on its server. We only index and link to content provided by other sites. Please contact the content providers to delete copyright contents if any and email us, we'll remove relevant links or contents immediately.