Firetrap: The Soul Scorchers MC (The Scorched Souls Serial-series Book 1) by Riley C.L
Author:Riley, C.L. [Riley, C.L.] , Date: June 5, 2015 ,Views: 10468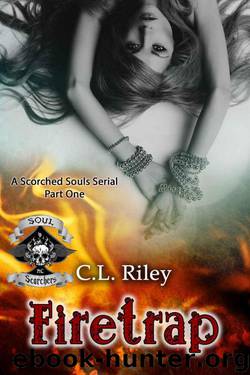 Author:Riley, C.L. [Riley, C.L.]
Language: eng
Format: epub
Published: 2015-05-28T07:00:00+00:00



Olympia
I'd just finished the second-to-last item on my "light duty" chore list and was delivering Boone his third whiskey, minimal ice, when what had to be at least a handful of motorcycles roared into the outside lot, making the ground rumble beneath my feet.
Boone had shown me the large parking area where he and his "brothers" parked their Harleys. He'd promised me a ride on his bike next week, once the doctor released me for more activities. The thought of thundering down the highway on some two-wheeled contraption sounded almost as terrifying as the fact I'd have my body pressed against his, arms wrapped around his hard abs. That picture sent an undeniable thrill through me, confirming I had to be certifiably insane.
How could I even want to touch someone who treated me like a glorified maid and sex toy that he could take out and share when he felt like it?
I still couldn't believe I'd willingly signed up for this life. The one positive interaction of my day, had been coloring with my youngest son, Jordon Vance; JV to everyone else. What a sweetheart.
His older brother, my other son, Joey, was too much like his father. The gleam in his eyes told me everything I needed to know. He would be breaking girls' hearts and causing trouble, the bail-him-out-of-jail kind of trouble, before long.
At least for now, my parenting duties were limited. While Boone was helping me readjust to "club life," the boys were spending most of their time with Grinch, a scary, bearded man that reminded me of a serial killer. For all I knew, he was one. The boys seemed to like him, though.
"Babe, remember what I told you. This final job is the most important. Working the bar is an honor. Tinker will give you a hand if you need it, and you won't be making any fancy drinks, mostly beers and straight shots. Got it?" Boone interrupted my thoughts.
I saluted him rather than responding. He was my drill sergeant, after all.
He gave me a smirk and lifted his brow. "Is that attitude you're giving me, Mrs. Richards? Do you need to be punished?"
God. Why did he have to be so damn sexy? And the way he said punished, made my lady parts tingle in anticipation.
Before I could come up with a smart comeback, the steel door swung open, and a biker parade marched in - more like stalked in. They looked like predators that'd just been released from prison, ready to rape, plunder, and pillage. Most of them glanced between Boone and me. A couple grinned, but several looked pissed
There were a few women, too. They openly sized me up. One in particular; an attractive brunette with an outfit that made mine look like something a nun would wear, narrowed her eyes. It appeared I had made an enemy. Of course I couldn't remember who she was, or why she hated me.
I gulped and fought the urge to run up to our room.
Seeing my reaction, Boone tossed back his drink and laughed.
Download


Copyright Disclaimer:
This site does not store any files on its server. We only index and link to content provided by other sites. Please contact the content providers to delete copyright contents if any and email us, we'll remove relevant links or contents immediately.