Fallon: Son of Beauty and the Beast (Kingdom of Fairytales Boxset Book 6) by J.A. Armitage & Scarlett Kol
Author:J.A. Armitage & Scarlett Kol [Armitage, J.A.] , Date: August 4, 2021 ,Views: 45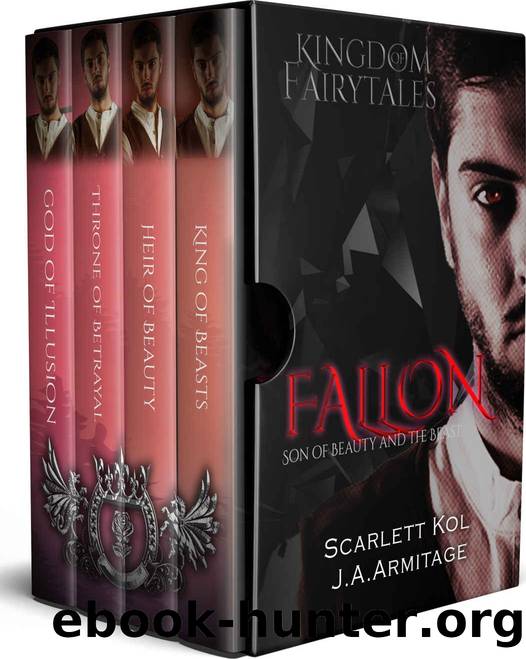 Author:J.A. Armitage & Scarlett Kol [Armitage, J.A.]
Language: eng
Format: epub
Publisher: Enchanted Quill Press
Published: 2021-05-19T22:00:00+00:00



As I crossed the golden bridge to Mosa, the entire city lay out in front of me, shiny and new through my stranger's eyes. The lantern lights blazed brighter. The colorful shutters and awnings popped against the rows of stone buildings in a fresh way, the simplistic beauty sinking into my borrowed skin and leaving a tingling sense of awe in my blood.
I walked down the cobblestone streets with my head held high, and not one person cared. Other then the occasional polite wave or nod of recognition, everyone went about their way unfazed by the acting king walking among them.
No one moved out of their way for me to pass or stared when I walked by. Even the reporters, standing vigil near the castle for any glimpse of potential gossip, ignored my presence. This strange magic turned me into a ghost, haunting the city with only a select few able to see me as I floated past. The pressure lifted from my shoulders. A relief. A freedom. A glorious vacation from myself--even if it only lasted one night.
Eventually, my feet led me down a familiar road. The sign for Takka's Tavern swung above the door as the sounds of music and laughter poured out into the street. I hesitated with my hand on the door handle. The last time I'd cross this threshold I'd run away like a coward. This time needed to be different.
I held my breath and swung the door open, the smell of hops and smoke twisting around me like a charmer's snake. Bodies packed around the bar, the room already more than half full with still so many hours of night left to drown. It seemed a bit early for the crowd this size, but maybe I'd been roaming the streets longer than I thought. Veda's regular corner table sat empty. My shoulders dropped a bit as even though she'd gone into hiding part of me hoped I'd look over and see her face scrunched in concentration, pouring over her books. But I didn't know why I bothered hoping anymore. She wouldn't appear again until she wanted to be found. Until then, I'd just have to wait.
I squeezed my way up to the bar and waited my turn as Mr. Takka raced around slinging glass mugs to the impatient patrons. Eventually, he made his way to my side of the bar. He pointed at my face, his shirt already rolled up to his elbows with spots of water or ale dotted on the front.
"What can I get you?"
I smiled. The unamused look on his face meant my disguise was still in place and working exactly as it should.
"A pint of ale, please, kind sir."
He raced away before I barely finished my order, his hands working quickly to pour the drink from the tap and slide it back down toward me. I slipped a bill on the bar and he quickly stuffed it into his pocket then moved down the line. I lifted my glass and took a deep swig in celebration.
Download


Copyright Disclaimer:
This site does not store any files on its server. We only index and link to content provided by other sites. Please contact the content providers to delete copyright contents if any and email us, we'll remove relevant links or contents immediately.