Persephone by Kitty Thomas
Author:Kitty Thomas [Thomas, Kitty] , Date: July 28, 2017 ,Views: 1704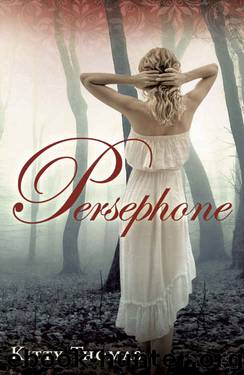 Author:Kitty Thomas [Thomas, Kitty]
Language: eng
Format: epub
Tags: Fiction
Publisher: Burlesque Press (Blue Pencil Media)
Published: 2017-06-25T18:30:00+00:00



Chapter Six
Hades sat on a leather couch at the far end of the ballroom drinking another glass of scotch. Persephone was a big hit. She was everything he'd imagined and more. The gathering had turned quickly from pleasantries and polite pretense to a debauched orgy in nearly the blink of an eye—as he'd known it would.
It hadn't taken long for every stitch of clothing to come off every creature down here and for bodies to start entwining and clawing toward their pleasure. Hades was probably the only one in the room currently wearing pants. He wanted to at least look like he had some control of himself. Clearly no one else did. Not that he minded.
If an underworld party at the castle didn't turn into a full decadent descent into pure naked hedonism, well, he'd completely failed.
One of the servants crossed the floor with purpose, his gaze trained on the ground in front of him. When he reached Hades, he made a small bow and held out a silver tray. "My Lord."
On the tray was a small, white piece of paper folded over once, with a red wax seal on it. Hades took the note from the tray. "Thank you, you may go." He knew without opening it that this would not require a response.
The servant scampered off into the crowd. Hades broke the seal. He knew who it was from. Since he'd brought Persephone to the underworld, he'd had spies out in force watching the upper world. He'd told Nick to keep him informed when anything changed.
Hades had known almost the moment Zeus knew Persephone had been taken. The poor humans. It had been several days of unrelenting wind and rain and hail. Hail so big it hadn't been safe for the little mortals to venture outside.
The note contained a short, scrawled message.
He knows about the party.
Hades smiled, refolded the paper, and slipped it into his pants pocket. If Zeus was able to come down here, Hades would be in a world of hurt. Luckily, he couldn't enter the underworld. Hades had hoped word of the party would spread and reach Zeus, but he hadn't expected word would reach him this soon.
Her father would know Persephone was to be the centerpiece of the event. He would know all the many ways Hades would desecrate her innocence and all the many beings down here who would have their turn with her.
If the weather systems in the upper world had been bad when Zeus learned of his daughter's kidnapping, Hades couldn't wait to see the disaster zone knowledge of the party would inspire. There might not be a world left.
Zeus should not have spent so much time and energy keeping her pure. Didn't he know by now that the more tightly you controlled your children, the more wild they went when they were finally free? No one illustrated this lesson better than Persephone.
But Hades didn't want to think of Zeus and revenge all night, not when there was a perfectly good orgy happening.
Download


Copyright Disclaimer:
This site does not store any files on its server. We only index and link to content provided by other sites. Please contact the content providers to delete copyright contents if any and email us, we'll remove relevant links or contents immediately.