Pernicious Red (When The Wicked Play Book 1) by Natalie Bennett
Author:Natalie Bennett [Bennett, Natalie] , Date: November 21, 2017 ,Views: 3071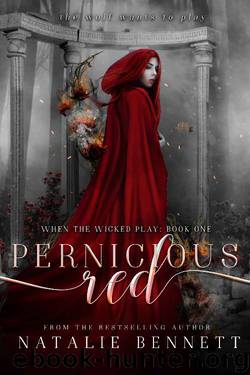 Author:Natalie Bennett [Bennett, Natalie]
Language: eng
Format: epub
Publisher: BB Books
Published: 2017-10-30T16:00:00+00:00



I jolted awake just as Channing pulled out of a drive-thru line. Squinting from the glow of a brightly lit sign, I more felt than saw him drop a sandwich onto my lap.
"Eat. We're almost there." The commanding tone he'd used on me before was back, leaving no room for arguing.
"Where are we?" I asked, sitting all the way up and looking around. Snowflakes were falling at a rapid rate, blanketing the night sky in flurries of white.
I could feel the imprint of his middle console on my left cheek from the way I'd fallen asleep.
"Eat," he repeated, a little harsher.
Rolling my eyes to the ceiling, I looked down at my lap and examined my sandwich.
"Do that again and I'll give you a reason to roll your eyes in the back of your head."
"Do you think threatening me with sexual assault is going to make me listen to you? Because it's not. I'm not afraid of you, Channing." I angrily unwrapped my burger and pulled off the top bun.
"It's not sexual assault when you're going to be begging for me not to stop and promising me anything I want." He didn't take his eyes off the road but I saw the tell-tale sign of a smirk appear.
"I got no onion, extra pickles, and ketchup packets on the side. Just like you like it. You're welcome."
Gaping at him after checking he was telling the truth, I tried to understand how he would know that.
"Is Alice helping you?"
"Red, eat your food before it gets cold. If your friend was in on it, I wouldn't be using her to make you do what I want." He had the audacity to sigh like I was being unreasonable.
His lack of a moral compass disturbed me on a sheer personal level. I bit into my burger just so I wouldn't have to respond. It tasted like sand and felt like a rock sinking into my stomach, but I needed the food—though it was questionable what nutritional value a fast food burger had to offer.
I told myself I was much more caring than him, tried to make myself believe that the idea of playing out this twisted version of my favorite fairytale didn't excite me in any sort of way.
But that was a lie.
And it made the cogs in my brain start turning again, resurrecting a memory I had long ago forgotten, a memory where a stranger came to see my mother and only spoke in private.
His voice had sounded like the man's sitting beside me.
Download


Copyright Disclaimer:
This site does not store any files on its server. We only index and link to content provided by other sites. Please contact the content providers to delete copyright contents if any and email us, we'll remove relevant links or contents immediately.