Droid 4 For Dummies by Dan Gookin
Author:Dan Gookin , Date: March 22, 2020 ,Views: 294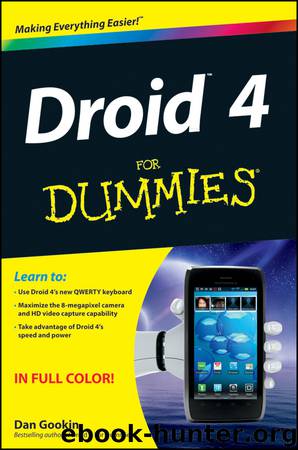 Author:Dan Gookin
Language: eng
Format: epub
Publisher: John Wiley & Sons, Ltd.
Published: 2012-04-24T16:00:00+00:00



Chapter 9
Pretty as a Picture
In This Chapter
Taking a still picture
Deleting the image you just shot
Turning on the flash
Snapping a panorama
Shooting video with the Droid 4
Recording yourself
Perusing your Droid 4 photo album
Working with images
Getting images out of the phone
As a camera snob, I fully understand that my fancy camera takes far better pictures than the Droid 4. But I don't always carry my camera with me. I do, however, always have my phone. Therefore, most of those precious moments — birthdays, fun with friends, traffic accidents, and UFO sightings — are captured using my phone, not the much-better camera that works only as a camera. This chapter explains how you, too, can use your Droid 4 as a camera to capture life as it goes on around you.
The Droid 4 Camera
Once upon a time, having a camera wasn't enough. You also needed something called film. And taking a picture wasn't the final step: That film had to be developed. The entire picture-taking process was often a multiday, if not multiweek, ordeal.
Those days are long gone. Armed with your Droid 4, you can take and instantly view pictures anytime, anywhere.
Snapping a picture
To use your Droid 4 phone as a camera, you have to hold the phone away from your face, which I hear is hell to do when you wear bifocals. Before doing this, start the Camera app, which may be found on the Apps menu or, more conveniently, on the dock, right next to the Apps icon.
After starting the Camera app, you see the main Camera screen, as illustrated in Figure 9-1. The controls shown in the figure eventually disappear, leaving the full screen to preview the image.
Download


Copyright Disclaimer:
This site does not store any files on its server. We only index and link to content provided by other sites. Please contact the content providers to delete copyright contents if any and email us, we'll remove relevant links or contents immediately.