Dreamland_ An Autobiography by Bob Lazar
Author:Bob Lazar [Lazar, Bob] , Date: May 12, 2020 ,Views: 598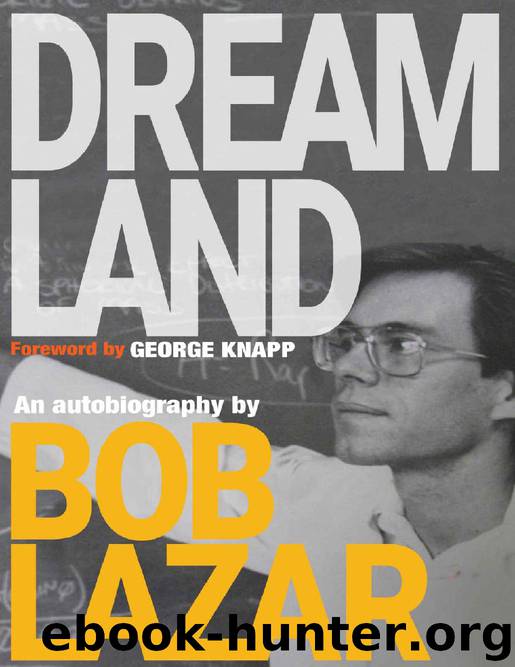 Author:Bob Lazar [Lazar, Bob]
Language: eng
Format: epub
Publisher: Interstellar
Published: 2019-10-14T22:00:00+00:00



TV shows or lms where they leave the place a mess, these guys were very respectful.
Despite my assurances, Tracy was stil shaken by the lengths the men went to. I told her that we'd done the right thing by al owing that search, though I was not real y happy about it al . I kept from her my relief that their presence let me know that the investigation was ongoing. ere had to be some reason why I wasn't cal ed out to work at S4, but my being denied a security clearance wasn't the reason—at least not yet. Knowing that I was stil in the running was far better than one of the other alternatives. I didn't want to press that point too much. Nor voice to Tracy my concerns that this was an odd way to go about this business. e less said the better. Let Tracy believe that this was standard operating procedure, and work to convince myself that this was true, and proceed with focusing on the job at hand.
I can't say for certain why it was that a brief period of inactivity went on, but there were a couple of occasions when the reactor and the emitter weren't present in the lab. Other units working on other systems must have needed to use them. Of course, we were never informed of this and it was mostly a surmise on my part and on Barry's part, but given what we eventual y were al owed to do and to witness, that made the most sense.
I DON'T KNOW IF IT WAS BECAUSE I WAS RELIEVED TO LEARN that I was stil being actively investigated for the security clearance I needed or if the home search indicated that I was under a new level of scrutiny, but I began to feel more comfortable talking with Dennis about our lack of real progress. Not only that, but Barry and I both began to let him know how much a hindrance it was for us to not be al owed to see and to inspect the other systems of the craft. We could study the reactor and the emitters in isolation, and we were getting closer to having a working instrument to measure the gravitational effects produced, but how that propulsion system functioned within the larger context of the craft was a gaping hole in our understanding.
"is isn't like a car engine of some unique design that's been dropped into a conventional automobile. We don't have a baseline knowledge of the drive train and the transmission and the steering and the suspension that are al common to most cars," I explained to Dennis in defending ourselves against
his accusation that we weren't trying hard enough. "How this entire craft functions, how this reactor and emitter work in synch with the rest of the components and systems is something we have no idea of. We're working with an unknowing inside of a larger unknown. at's not a great situation to be in, especial y if others have knowns that they can share with us.
Download


Copyright Disclaimer:
This site does not store any files on its server. We only index and link to content provided by other sites. Please contact the content providers to delete copyright contents if any and email us, we'll remove relevant links or contents immediately.