Directory of World Cinema: Iran by
Author: , Date: July 1, 2020 ,Views: 11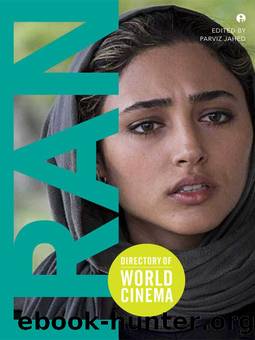 Language: eng
Format: azw
Published: 2012-11-03T16:00:00+00:00



Notes
1. Note missing
2. Note missing
Maybe Some Other Time
Shayad Vaqti Digar
Studio/Distributor:
Filmsaz
Director:
Bahram Beyzaie
Producers:
MH Farajollahi
Hushang Noorollahi
Reza Alipour
Asad Delshad
Screenwriter:
Bahram Beyzaie
Cinematographer:
Asghar Rafi Jam
Art Director:
Iraj Raminfar
Editor:
Bahram Beyzaie
Duration:
159 minutes
Genre:
Drama
Cast:
Soosan Taslimi
Dariush Farhang
Alireza Mojalal
Year:
1987
Synopsis
Working on the soundtrack of a documentary about pollution in Tehran, Modabber, a TV presenter, notices his wife in a stranger's car. He calls her to make some suggestive remarks, but she sounds indifferent. She is preoccupied with household chores and anxiously examines old photos. At home Modabber searches her wardrobe, but does not find the green dress that he has seen in the film. Kian's anxiety and her apathy to his sarcasm infuriate Modabbar. But unknown to him, she is disturbed by the familiarity of an orphanage that she has visited.
Modabber locates the owner of the car, Haqnegar, through Tehran's Licensing Agency. He has an antique shop. Kian is agitated, speaks quietly on the phone, and takes tranquilizers. Modabber gives her a green dress he has bought to see her reaction. She seems happy, but she says she is tired and wishes to sleep. He keeps asking questions, behaving like a torturer. Modabbar goes to Haqnegar's shop. The shop's basement is like a museum, filled with vestiges of the past from all over the world. He is struck by a portrait of his wife and asks for its price. Haqnegar refuses to sell it; it belongs to his wife. Modabber takes his wife out and finds two phone numbers in her purse; one is the number of National Registration Office, the other an orphanage. He keeps torturing himself with jealous thoughts. He talks with Haqnegar's wife Vida on the phone to arrange filming an interview at their house. Modabber tells Kian he thinks somebody is between them. Kian confirms by telling him she is expecting a baby. He is so bewildered that Kian thinks he does not want the baby. She utters words about a baby whom nobody wants and her fear of dogs. She has nightmares about being trapped in a greenhouse, a swinging bed, a medical centre and an orphanage.
Kian goes to her parents' house where they argue over their photo album. Modabber takes her to the antique shop, where she encounters her own portrait doubled in a mirror. She is overwhelmed with anxiety. Modabber confirms the arrangements for the interview at Haqnegar's house and takes Kian home. The same evening he faces a replica of his wife in Haqnegar's house. He calls Kian and asks her to go there immediately. When the camera crew arrives, he also asks Vida, a painter and a pottery expert, to put on her green dress. With Kian's arrival, the two women face each other in astonishment. As they make sense of the past by examining their blurred memories, the walls of the house open to let the camera travel to a distant past when famine made their mother give up one of them for adoption. Modabber asks Kian if she wants to leave. She does. Haqnegar asks them to stay. Modabber says, 'Maybe some other time.'
Download


Copyright Disclaimer:
This site does not store any files on its server. We only index and link to content provided by other sites. Please contact the content providers to delete copyright contents if any and email us, we'll remove relevant links or contents immediately.