Deadly Abyss (Mist and Mirrors Book 3) by Eve Langlais
Author:Eve Langlais [Langlais, Eve] , Date: August 6, 2022 ,Views: 6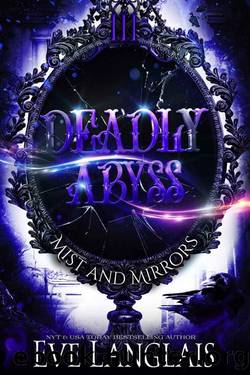 Author:Eve Langlais [Langlais, Eve]
Language: eng
Format: epub
Published: 2022-07-25T18:30:00+00:00



Chapter Twenty-Four
We didn't encounter anyone as we left Zanir's room. His mother was off somewhere sulking—or planning revenge. The servants were scarce. As we made our way down the stairs, I once more admired the fine detail in this place. Thus far, I'd been amazed. I'd thought the Abbaes were complex construction, but a multi-level city carved into a mountain? It seemed impossible, and yet here it was, beautiful and spacious but devoid of the suns' light. Odd.
"I've yet to see a window," I remarked as we stepped out of the mouth of his home. "Is there no natural light to be found?"
"Openings would have compromised the structure of the fortress inside the mountain. The hollowing has been done very carefully in order to maintain integrity."
"How do you breathe?"
"Air is blown in through many narrow shafts that run the levels from top to bottom."
"What if those vents were blocked?"
He glanced at me. "Planning to kill everyone?"
"What? No!" I hastily added. "Just the tactician in me sees that as a flaw. One entrance, in theory, sounds good. Easier to guard, unless it's destroyed and something worse within requires evacuation. I've seen it happen. The Abbaes have a similar design with only one door in and out. Although some did enlarge their balcony views. They made the arrow slits in windows. We think that might have been what wiped out the Eighth." I'd searched through it when hunting for clues and supplies. Found a lot of bodies. Soraers mixed with creatures sporting two tails and wings.
"Would you feel better if I said I know of another exit?" He didn't look down at me as we headed down the odd alley-like street, quiet and empty.
"Actually, I would." A reply I kept short, as a door opened and a couple exited their home, both clearly Aelfrae and looking down on me.
"So the rumors are true," the Lord said, his sneer making it an insult.
I bristled, ready to retort, but Zanir had other ideas. He didn't always act as expected. He dragged me close with an arm around my upper body and the smarmiest smile. "The rumor is most definitely true. I've taken on a courtesan and have to say I don't know how it took me this long to realize I could enjoy all the benefits of marriage without the nagging of a wife."
As a woman, I should have been insulted, and a part of me held back a tart reply, but the Lord's wife's face!
The snooty Lady's features mottled as she spat, "Should have known you'd settle for trash."
Rather than reply, Zanir addressed the husband. "Agathe has friends if you're looking for a biddable companion. Well behaved. Respectful and energetic where it counts." Spoken with a suggestive wink. Then in a lower aside, "Her mother was very fertile, so I'm hopeful."
There he went mentioning kids again.
"Half-breed children," the Lady exclaimed.
As he anchored me even closer, I wondered if it was because he knew I was about to slap her.
"Can you imagine the fun
Download


Copyright Disclaimer:
This site does not store any files on its server. We only index and link to content provided by other sites. Please contact the content providers to delete copyright contents if any and email us, we'll remove relevant links or contents immediately.