Cops and Robbers by Ant Anstead
Author:Ant Anstead [Ant Anstead] , Date: June 20, 2018 ,Views: 1084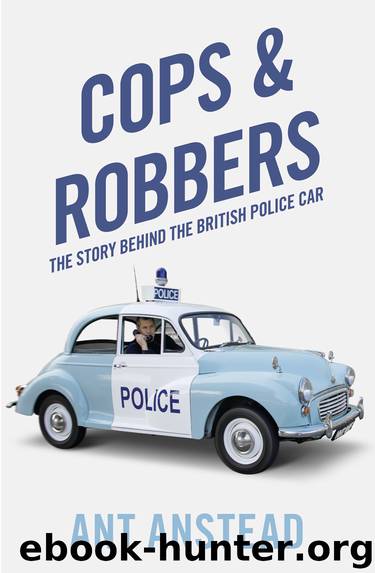 Author:Ant Anstead [Ant Anstead]
Language: eng
Format: epub
Publisher: HarperCollins Publishers
Published: 2018-05-11T04:00:00+00:00



The letter, signed by Ockey, accepting his King's Police Medal.
Some of the very earliest performance cars used in large numbers by the police were MGs, or as they were in the days of correct grammatical contraction (it stands for Morris Garages, as I'm sure you know), M.G.s. The complete history on police use of these cars is detailed in the brilliant book by Andrea Green, M.G.s On Patrol, which not only looks at each and every model ever used by the police but also lists the registration number of each car and to which force it was allocated. Pre-war cars included the various Midget models and even the VA Tourers. The Lancashire County Constabulary in particular loved their MG cars, with the likes of the two forces in Sussex, Kent and Warwickshire following closely behind.
Post-war, as most forces started to form their Traffic Divisions, the obvious choice for many were MG products because, bangs per buck (budget was an issue even then), nothing came close to an MG in performance terms for the money that they cost. The TC was one of the first cars announced after World War II (and it's important to note that MG played a noble part in the war, being involved in, among other things, the development of the tanks known as 'Hobart's Funnies'), costing only £480 in 1945 when few cars were ready to go into production anyway and those that did were generally pricey. Police officers were sent by train, armed with a set of number plates, to the factory in Abingdon to collect their new cars. The most favoured at this time were the MG TC and later the TF. For their day these cars were pretty quick, with top speeds of around 80mph with stopping provided by efficient, well-designed drum brakes. MG were keen to help supply ready-built cars to the police and could supply and fit radio equipment, aerials, illuminated police signs, PA systems, fire extinguishers and other kit as required, so that the cars could be utilised almost immediately. Although these cars weren't being used to combat a local issue, as described previously, they were required to combat the menace of the motor-car-driving public whose skills behind the wheel in the pre-1930s were merely learned as they went along, with often fatal consequences. MG did not give the cars away but they were competitively priced because they understood the publicity value of having the police seen in their cars, and the Abingdon-based team, backed as they were by the Nuffield group, were perhaps more public spirited than some manufacturers in feeling it was their duty to supply the police. They were proud to provide forces with their cars and had a reputation for hands-on modifications when requested and also for sorting warranty issues generously for police customers. This went a long way and definitely helped to keep police forces loyal to their products.
By the 1950s our roads were becoming a lot more congested, and MG, after some Austin Healey-induced
Download


Copyright Disclaimer:
This site does not store any files on its server. We only index and link to content provided by other sites. Please contact the content providers to delete copyright contents if any and email us, we'll remove relevant links or contents immediately.