Church of Spies by Mark Riebling
Author:Mark Riebling , Date: November 28, 2017 ,Views: 940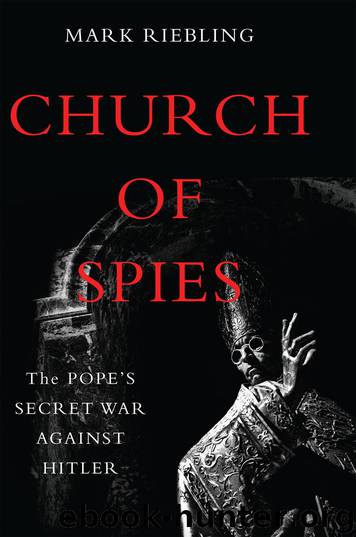 Author:Mark Riebling
Language: eng
Format: azw3
Tags: World War II, Intelligence & Espionage, Political Science, Biography & Autobiography, Military, Religious, History
ISBN: 9780465061556
Publisher: Basic Books
Published: 2015-09-01T00:00:00+00:00



IN THE FIRST WEEK OF 1945, FATHER DELP TRIED TO DECODE HIS own fate. "This is a moment in which the whole of existence is focused at one point and with it the sum total of reality," Delp reflected on 6 January, the feast of the Epiphany. Finding himself "in the very shadow of the scaffold," he learned that the presiding judge, the red-robed Roland Freisler, hated Catholics and priests.19
"Things seem clearer and at the same time more profound," Delp wrote. "One sees all sorts of unexpected angles." In his New Year's stock taking, the war became both an expression and indictment of modernity. "Far more than a civilization or a rich heritage was lost when the universal order went the way of medieval and ancient civilizations." Yet few saw "the connection between the corpse-strewn battlefields, the heaps of rubble we live in, and the collapse of the spiritual cosmos of our views." Europe now faced the ultimate expression of modern nihilism, the prospect of life under Stalin's boot. Communism, however, would serve as "a donkey for an imperialism of limitless proportions. . . . The Slavs have not yet been absorbed by the west and are like a foreign body in the working of the machine. They can destroy and annihilate and carry away enormous quantities of booty, but they cannot yet lead or build up."20
Could the Church then rebuild Europe after the war? "So far as concrete and visible influence goes, the attitude of the Vatican is not what it was," Delp regretfully wrote. He worried that the papacy had lost its moment, despite going through the moral motions.
Of course it will be shown eventually that the pope did his duty and more, that he offered peace, that he explored all possibilities to bring about peace negotiations, that he proclaimed the spiritual conditions on which a just peace could be based, that he dispensed alms and was tireless in his work on behalf of prisoners of war, displaced persons, tracing missing relatives and so on—all this we know and posterity will have documentary evidence in plenty to show the full extent of the papal effort. But to a large extent, all this good work . . . leads nowhere and has no real hope of achieving anything. That is the real root of the trouble—among all the protagonists in the tragic drama of the modern world there is not one who fundamentally cares in the least what the Church says or does. We overrated the Church's political machine and let it run on long after its essential driving power had ceased to function. It makes absolutely no difference so far [as] the beneficial influence of the Church is concerned whether a state maintains diplomatic relations with the Vatican or not. The only thing that really matters is the inherent power of the Church as a religious force in the countries concerned. This is where the mistake started; religion died, from various diseases, and humanity died with it.21
Download


Copyright Disclaimer:
This site does not store any files on its server. We only index and link to content provided by other sites. Please contact the content providers to delete copyright contents if any and email us, we'll remove relevant links or contents immediately.