China Briefing, 1987 by John S. Major & Anthony J. Kane
Author:John S. Major & Anthony J. Kane [Major, John S. & Kane, Anthony J.] , Date: August 6, 2022 ,Views: 3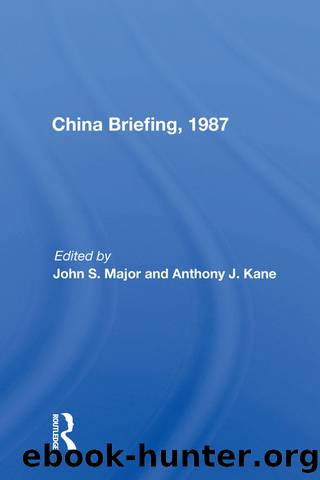 Author:John S. Major & Anthony J. Kane [Major, John S. & Kane, Anthony J.]
Language: eng
Format: epub
Tags: Social Science, Political Science, World, Asian, Regional Studies
ISBN: 9780813304984
Google: icSrDwAAQBAJ
Goodreads: 15305399
Publisher: Westview Press
Published: 1987-10-05T00:00:00+00:00



Notes
1. Deng Xiaoping, "Talk at the Third Plenary Session of the Central Advisory Commission on October 22, 1984," Renmin ribao (People's Daily domestic edition, hereafter cited as RMRB), January 1, 1985, p. 1.
2. For Deng's remarks to this effect, see Die Zeit, October 19, 1984, p. 3, quoted in Thomas P. Bernstein, "China in 1984: The Year of Hong Kong," Asian Survey, 25, No. 1 (January 1985), p. 44.
3. For the complete text of Hu's speech, see RMRB, June 12,1986, p. 1. That the speech was published in its entirety on the front page of the domestic edition of the People's Daily suggests that it was not just for foreign consumption.
4. See Hu Yaobang's interview with Werner Micke, deputy chief editor of Neues Deutschland, in Foreign Broadcast Information Service, Daily Report, China (hereafter cited as FBIS-China), October 21, 1986, p. H2.
5. See Xue Mouhong, "The New Situation of Our Country's Foreign Policy," Hongqi (Red Hag), No. 6 (1986), pp. 19-24. Xue was a leading academic policy advisor in the Foreign Ministry at the time, and he admitted, in a personal interview granted to me on April 10, 1986 in Beijing, that this article had gone through a half dozen revisions before its publication in Hongqi. Premier Zhao Ziyang, in his report on the Seventh Five-Year Plan delivered at the Fourth Session of the Sixth National People's Congress, on March 25, 1986, makes the same assertion: "So far as our foreign relations are concerned, it may be said that we have opened up new prospects and that this is the best period since the founding of the People's Republic." Zhao Ziyang, "Report on the Seventh Five-Year Plan," in Beijing Review (hereafter cited as BR,) No. 16 (April 21, 1986), p. xvii.
6. On December 17,1985 the People's Daily published an article entitled, "The Explorers of the Peace Path." To the best of my knowledge, this is the first article on the status of peace research in the West, and it has been followed by more articles and commentaries in 1986. See RMRB, December 17, 1985, p. 7. For the first time, the World Conference on Religion and Peace was held in Beijing in June 1986. During the course of my residence in Beijing from August 1985 to June 1986, I witnessed firsthand a stream of peace researchers and organizations from the United States, Japan, and Western Europe visiting China at the invitation of various newly established peace NGOs in China.
7. For this line of reasoning, see She Duanzhi, "United Nations: Rallying Around Common Interests," BR, No. 38 (September 22,1986), p. 12; see also Chen Qiman, "Tentative Discussion on Postwar Changes in International Relations and the Possibility of Winning Lasting World Peace," Hongqi, No. 13 (July 1, 1986), pp. 20-26 arid Peng Di, "Are There Changes in Chinese Foreign Policy?" Liaowang, overseas ed., No. 11 (March 17, 1986), pp. 3-4.
8. See Zhao Ziyang, "The Objectives of China's Foreign Policy: For Lasting Peace, Increased Friendly Cooperation and Co-Prosperity," International Affairs (London) 61, No. 4 (1985), pp.
Download


Copyright Disclaimer:
This site does not store any files on its server. We only index and link to content provided by other sites. Please contact the content providers to delete copyright contents if any and email us, we'll remove relevant links or contents immediately.