Chase, Loretta - Regency Noblemen 2 by The Devil's Delilah
Author:The Devil's Delilah , Date: March 24, 2014 ,Views: 92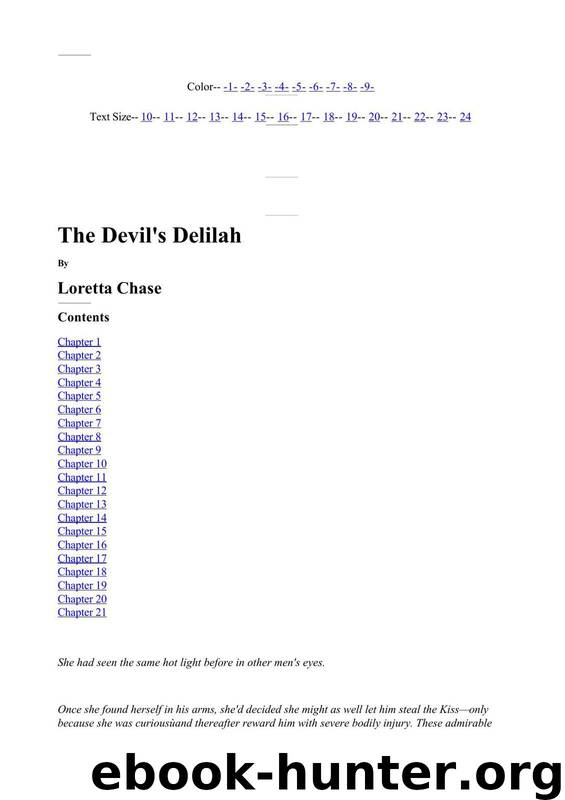 Author:The Devil's Delilah
Language: eng
Format: mobi
Published: 0101-01-01T00:00:00+00:00



Chapter 12
As he learned a while later, Mr. Langdon had not told falsehoods after all. There had indeed been a summons for Lord Berne, who had already left to accompany his parents back to Streetham Close by the time Jack returned to Rossing Hall.
Relieved that he would not have to endure his friend's quizzing, Jack quickly set about preparing for his evening's skullduggery. The first order of business was to get rid of his valet, who was given the night off.
Though Mr. Fellows lingered in the house until after dinner—to make certain his master donned proper attire—he did leave at last, and Jack could ransack his own wardrobe free of prying eyes and ironic comments.
Eventually he found an old set of clothing suitable to his purposes. After donning these, he sat down with a volume of Andrew Marvell's poetry to wait.
Delilah had intended, as soon as she returned to the house, to inform her father of Atkins's apparent treachery. She could not. Mr. Desmond had gone out and did not plan to return until very late that evening, Lady Potterby disapprovingly informed her grand-niece.
"Some card game or cock fight, I suppose," Lady Potterby muttered. "But that is to be expected. I only wonder he has remained so quietly at home all this time."
As predicted, he did not return for dinner and when, several hours later, he had not yet put in an appearance, Delilah decided this was just as well. She really ought not say anything to him until she was certain the memoirs were gone. Otherwise he might go after Mr. Atkins and get himself taken up for assault on an innocent man.
Since no festivities were scheduled for tonight, the household made an early bedtime. By ten o'clock, having dismissed her maid, Delilah was curled up in the window seat of her bedchamber, gazing out at the darkened expanse of park towards Rossing Hall.
She would have preferred a view of the garden, but her room was on the wrong side of the house. As it was, she doubted she'd be able to see anything, even if Mr. Langdon did come that way, and she had no way of knowing whether he would.
Still, she waited and watched as the old clock in the hall downstairs tolled eleven o'clock, then midnight.
The clock had scarcely left off chiming when she discerned a faint light moving between the row of elms.
Immediately her heart began pounding.
Lud, wasn't that just like him—to bring a lantern. What if one of the grooms was up and about in his quarters by the stable and spied the light?
Jack darkened his lantern and placed it on the ground. Having decided that, if caught, he would simply confess all, he had brought along a spade, which he now plunged into the earth. He had just emptied his third shovelful when he heard a faint creak, then rustling. There was a light patter of footsteps, and Jack looked up to see a dark figure approaching. It was not a tall, dark figure.
Download


Copyright Disclaimer:
This site does not store any files on its server. We only index and link to content provided by other sites. Please contact the content providers to delete copyright contents if any and email us, we'll remove relevant links or contents immediately.