Capital Allocation: The Financials of a New England Textile Mill 1955 - 1985 by Jacob McDonough
Author:Jacob McDonough [McDonough, Jacob] , Date: October 31, 2021 ,Views: 179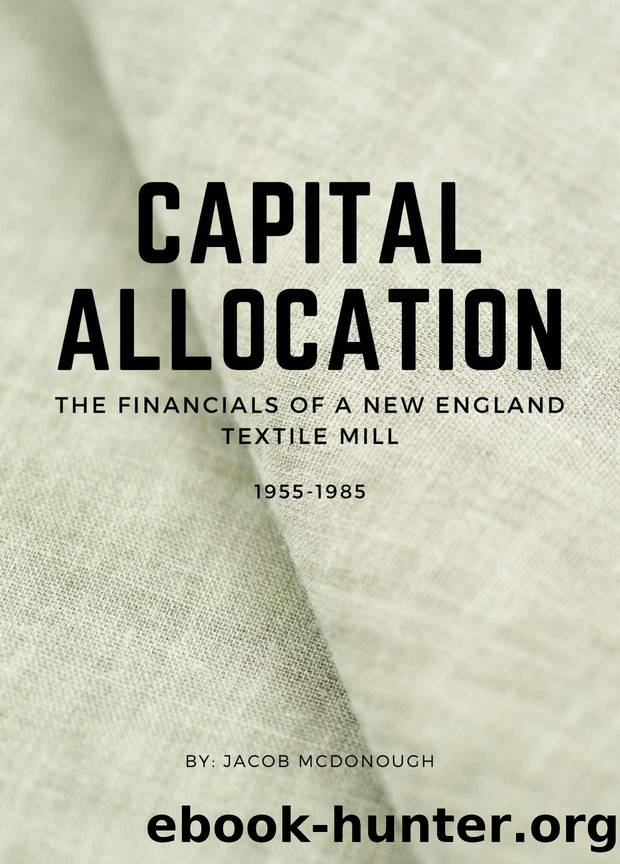 Author:Jacob McDonough [McDonough, Jacob]
Language: eng
Format: epub
Published: 2020-05-15T04:00:00+00:00



The circulation of the News reached 10,850 during the first year. 40 At the time, there were no other Sunday papers publishing in Buffalo. Many religious organizations were against the formation of a Sunday newspaper.
Eventually, competition grew over time on Sunday. The Sunday Courier was formed in 1875, while the Sunday Express began operations in 1883. These two papers would later go on to merge and form the Courier-Express. In 1880, Butler decided to establish the Buffalo Evening News, a daily edition of the newspaper. In 1915, the News shut down their Sunday operations as the daily paper was more profitable at the time.
Buffett noticed that most cities were dominated by one newspaper. From 1920 to 1977, the number of cities in the U.S. with two major newspapers dropped from 700 down to less than 50. 41 Local businesses would pay more to advertise within the newspaper that had a higher customer base. Readers would get more useful information from a newspaper that contained more advertising because they would be able to view more classified ads, as well as learn about discounts from local retailers. Additionally, a paper with more financial resources could have a higher budget to report the news, leading to a higher quality product. The economics of the newspaper industry led to a winner-take-all situation.
Blue Chip invested $35.5 million in the News in 1977. The cost of net assets acquired exceeded their reported fair value by $1.1 million. 42 Blue Chip took out a $30 million bank loan to fund the acquisition. As a result of prepayments, the loan was only $13.5 million by 1979. 43 The News earned $1.7 million pretax 44 in 1976, or $863,008 after tax based on the 48%
statutory tax rate. This would be a 2.4% after tax yield based on Blue Chip's purchase price. At first glance, this may seem like an expensive price to pay for a business. However, the profitability at the News had the potential to increase to levels that would make the purchase price look like a bargain.
106
/
The News had been privately owned for a century, and Blue Chip had the opportunity to reduce certain operating costs. For example, the News was paying higher prices than necessary for its newsprint, a raw material. Most mills offered volume discounts. The News, on the other hand, bought newsprint from many different mills to protect against the chance of a strike. 45 When Blue Chip took over the News, the company reduced the number of mills it purchased from in order to take advantage of volume discounts. The company also increased storage capacity in order to help protect against a shortage in the case of a strike at a mill. Buffett hoped to save $1.2 million in newsprint costs after renegotiating with the mills. 46 This reduction in costs would have led to a $2.9 million pretax profit in 1976, or roughly $1.5 million after tax. Blue Chip's effective yield on their purchase price would have been 4.2% under this scenario. Blue Chip ended up being successful in lowering its newsprint costs.
Download


Copyright Disclaimer:
This site does not store any files on its server. We only index and link to content provided by other sites. Please contact the content providers to delete copyright contents if any and email us, we'll remove relevant links or contents immediately.