Birds as Useful Indicators of High Nature Value Farmlands by Federico Morelli & Piotr Tryjanowski
Author:Federico Morelli & Piotr Tryjanowski , Date: August 5, 2020 ,Views: 344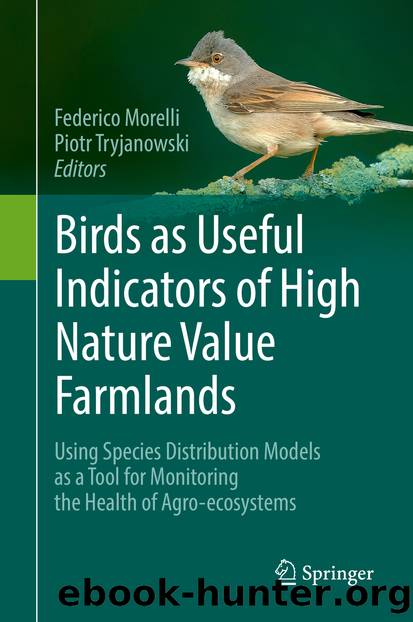 Author:Federico Morelli & Piotr Tryjanowski
Language: eng
Format: epub
Publisher: Springer International Publishing, Cham



4.4.2 Indicator Species Analysis
Another useful tool, in order to identify a set of bird species as potential indicators in a particular type of farming system, is the indicator value or IndVal, which is a hierarchical clustering method [70]. The IndVal can be used to select species that are typical from specific characteristics of the habitat or environment.
The formula used to compute the IndVal is:
where IndValij is the indicator value of an 'i' species in relation to a 'j' type of site, Specificityij is the proportion of sites of type 'j' with species 'i' and, finally, Fidelityij is the proportion of the number of individuals (abundance) of species 'i' that are in a 'j' type of site.
Any good indicator species would be those that are both abundant in a specific type of habitat (high specificity) and are predominantly found in this type of habitat (high fidelity).
The package 'indicspecies' from R is adequate in order to perform IndVal analysis [71], and then to calculate relationships between species and groups of sites (for instance, HNV farmlands versus non-HNV farmlands). Furthermore, new updates of this package provide a set of functions to assess the strength and statistical significance of the relationship between species occurrence/abundance and groups of sites, and even to improve indicator species analysis by combining groups of sites and group of species as indicators of site types [71, 72].
Download


Copyright Disclaimer:
This site does not store any files on its server. We only index and link to content provided by other sites. Please contact the content providers to delete copyright contents if any and email us, we'll remove relevant links or contents immediately.