Bendy and the Ink Machine: Dreams Come to Life by Adrienne Kress
Author:Adrienne Kress [Kress, Adrienne] , Date: June 30, 2020 ,Views: 194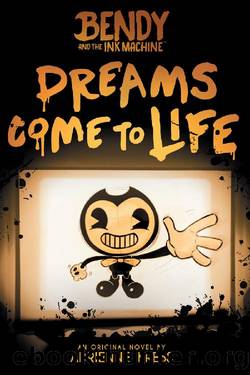 Author:Adrienne Kress [Kress, Adrienne]
Language: eng
Format: epub
Publisher: Scholastic
Published: 2019-06-14T23:00:00+00:00



Today I didn't know what this was.
Today I looked at these pages and forgot why it was here. What this object was supposed to be. It confused me.
I had to dig deep into my mind.
The five senses:
Touch: rough edges to pages.
Smell: ink and paper.
Taste: not tasty at all.
Sound: hollow quiet.
Sight: words on pages.
Words on pages. Buddy. Dot. Ma. Grandpa.
Joey Drew. My story.
This isn't just my story, it's your story too, Dot. I wish I could tell it from your point of view sometimes. I wish I knew why you believed me and sought me out that first time. I wish the answer was more than just your "gut."
I wish I understood you the way you seemed to understand me.
Maybe it was all a lie.
But you were never a liar. That was the whole thing, wasn't it? You chose not to lie.
People can make that choice.
I wish I knew why you believed me when I told you about the Infirmary. About the creature in the darkness. About my shirt. I'd been stupid not to bring it in to work the next day with me, but it hadn't mattered because you believed me. It wasn't just some dark fairy tale.
It was real.
You came with me to the Infirmary hallway at lunch. I showed you the room. There was nothing there, of course, but that didn't make you not believe me. It just made you want to investigate more.
You, Dot, always asked questions.
She really did. In case this is someone else. In case this isn't her reading this. She was great at asking questions.
"What about Sammy and Tom?" she asked, quickly pocketing her master key after I handed it back to her. She didn't seem to mind at all I'd taken it, but maybe it was because she was so interested in what I'd found.
"What about them?"
"What about that conversation you overheard? About ink?" I shook my head, I wasn't sure what to think. "Come on, Buddy. These guys are being secretive about ink in this odd way, and then you end up with an ink-stained handprint on your back. Might be no connection, but does it really feel like there isn't? I don't think so."
True.
There was something I hadn't told her. Because it made me sort of uncomfortable. I didn't totally trust what I'd seen and I hated jumping to conclusions, looking stupid. But if anyone would listen to me it would be Dot. So I told her about after the conversation. About going to Sammy and seeing the ink bottle beside him and the black smudge at the corner of his mouth.
"Like he'd had his pen in his mouth?" she asked.
I felt now even more conflicted saying this bit. "Maybe, but I feel like I remember that the bottle had more ink in it and then it had less ink in it when I looked again." I didn't want to say it outright.
I worried she'd look at me funny, but instead she immediately asked, "Do you think he drank it? That'd be toxic, wouldn't it!?"
She asked the question I hadn't dared ask myself.
Download


Copyright Disclaimer:
This site does not store any files on its server. We only index and link to content provided by other sites. Please contact the content providers to delete copyright contents if any and email us, we'll remove relevant links or contents immediately.