Arabic in a Flash Kit Ebook Volume 2 by Fethi Mansouri Dr. & Yousef Alreemawi
Author:Fethi Mansouri, Dr. & Yousef Alreemawi , Date: October 14, 2021 ,Views: 65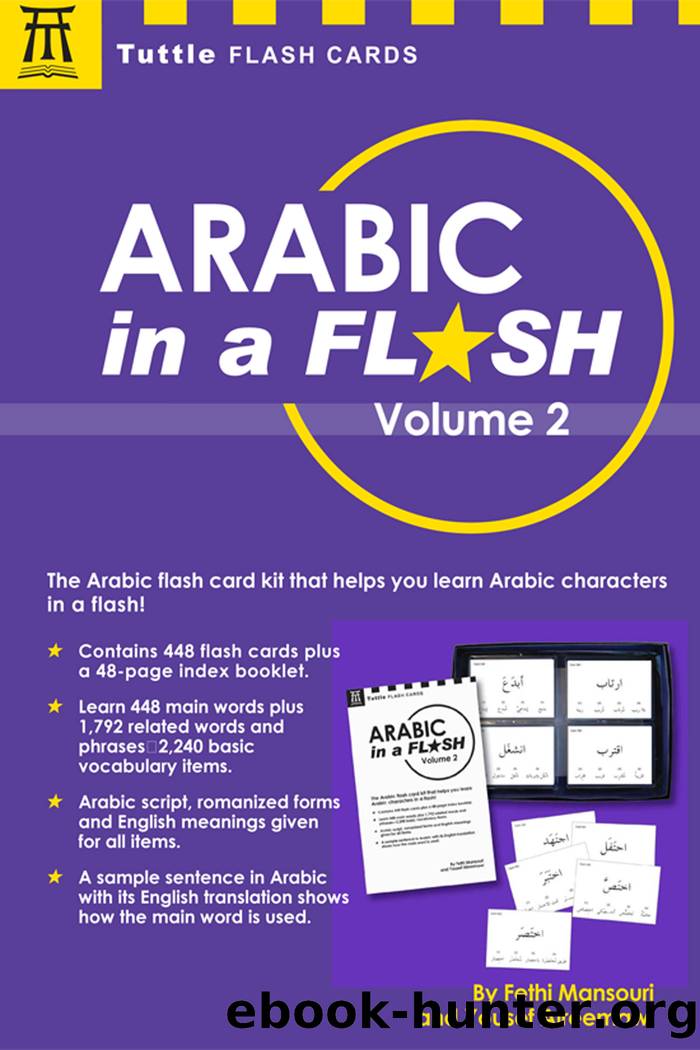 Author:Fethi Mansouri, Dr. & Yousef Alreemawi
Language: eng
Format: epub
ISBN: 978-0-8048-3728-6
Publisher: Tuttle Publishing



fataha (balad)
to conquer (country)
fataha jayshul 'iskandaril maqduuniyy bilaada faaris.
The army of Alexander the Great conquered Persia.
1. fath conquest
2. faatih conqueror
3. fath (nasr) triumph
4. maftuuh conquered
tashaajara
to quarrel
tashaajaral 'awladu 'alaa man sayal`abu awallan.
The boys quarrelled over who was to play first.
1. tashaajur argument
2. shijaar quarrel
3. mushaajarah fight
4. mutashaajir quarrelling
tatarrafa
to go to the extreme
'anaa laa 'atatarrafu fii ra'yii.
I do not go to the extreme in my opinion.
1. tatarruf extremism
2. mutatarrif extremist
3. taraf edge; side
4. bitatarruf extremely
Download


Copyright Disclaimer:
This site does not store any files on its server. We only index and link to content provided by other sites. Please contact the content providers to delete copyright contents if any and email us, we'll remove relevant links or contents immediately.