Angie's Destiny [Cattleman's Club 7] (Siren Publishing Ménage Everlasting) by Jenny Penn
Author:Jenny Penn , Date: April 9, 2021 ,Views: 14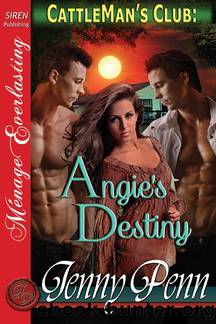 Author:Jenny Penn
Language: eng
Format: mobi
Tags: Siren-BookStrand, Inc.
Published: 2015-05-06T16:00:00+00:00



Chapter 12
"I don't know where it could have gone," Heather insisted for like the hundredth time as Patton all but tried to shove herself under Heather's desk. "It was right there in the drawer. I swear."
She issued that plaintive assurance to Mike, who stood there wondering how he'd gotten himself sucked into this disaster. This was all Angie's fault. He'd always known getting mixed up with her would be a disaster…just not this kind of disaster, or the kind that happened in the kitchen before he'd left.
Mike didn't know what the hell that had been about and why he kept freaking out every time he touched her. What he did know was that he had to get this problem in control because it was one thing to choose not to do Angie. It was an entirely other thing not to be able to do her.
"I'm sure it's here, Heather, and I'm going to find it," Patton insisted somewhat desperately as she went crawling across the floor. "I'm sure it's around here somewhere. It just has to be."
"Don't worry?" Heather rolled her eyes and shook her head as she glanced over at Mike. "Don't worry, she says. It's just my ass in the fire if Alex finds out that I even had the damn thing to begin with."
Alex referred to one of Heather's current boyfriends or fiancés. Mike didn't really know their official status. That didn't mean he didn't know Alex. They went way back, and Heather was absolutely right. He'd be pissed.
Hell, any man would. The only reason Mike wasn't was because he wasn't on the flash drive. Thankfully. But if he had been, he already knew how his file would read. He was a wussy who was afraid of pussy.
"And what happens if you don't find it?" Heather demanded to know, finally earning a look from Patton, who frowned over her shoulder at the other woman.
Not all pussy, Mike corrected himself. Just the sweetest fucking one he'd ever dipped his fingers into. Mike admitted it. He'd licked his fingers clean after he ran back to his room the other morning. All he really wanted was another taste of that cunt. He wanted to lay Angie down and slip those perfectly curved calves of hers over his shoulders and have himself a feast.
"I guess then that means…somebody took it, but don't worry," Patton quickly added with a glance in his direction. "That's why Mike's here. To solve the mystery of who."
Mike perked up at the sound of his name, but they weren't talking to him. They were talking about him.
"Is that right?" Heather glanced back over at him with a frown. "And why are we trusting him? He's not a detective, but he is one of them."
The way she stressed that last word had Mike sighing, a gesture that had Heather's scowl only darkening and her doubt, clearly, expanding.
"Because we have to trust somebody," Patton argued as she came to the edge of a stack of boxes. "Besides, he's the only one willing to help.
Download


Copyright Disclaimer:
This site does not store any files on its server. We only index and link to content provided by other sites. Please contact the content providers to delete copyright contents if any and email us, we'll remove relevant links or contents immediately.