A History of the Amish by Steven M. Nolt
Author:Steven M. Nolt , Date: May 4, 2018 ,Views: 866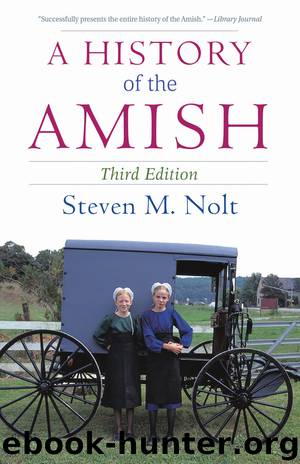 Author:Steven M. Nolt
Language: eng
Format: epub
Publisher: Good Books
Published: 2016-01-01T05:00:00+00:00



A poster advertising land for sale in Michigan noted the presence of "Colonies of Amish and Mennonites" in the state.
The Arthur community symbolized conservatives' ability to grow and thrive, even as the majority of Amish Mennonites moved toward greater social acculturation.2 Indeed, Old Order life and faith apparently appealed to some Americans, even as it drove other Amish Mennonites away. Around 1863, for example, Jacob Lambright, raised as a Lutheran, joined the Old Order church in northern Indiana. Within a decade, the Bawell, Barkman, Flaud, and Whetstone surnames (among others) became part of Old Order Amish communities in various states, as people bearing those names joined the tradition-minded Amish church.3
As the Old Order church slowly grew, important new settlements started in Daviess County, Indiana (1868); Reno County, Kansas (1883); and Geauga (1886) and Madison counties (1896), Ohio. In the late 1800s, new districts formed in a dozen other states, but troubled church affairs or the economic difficulties of homesteading caused these settlements to dissolve.4
A congregationally organized church spread across North America and without a national bureaucracy might easily have fragmented. Nevertheless, Old Orders remained remarkably close-knit and connected, considering their dispersed settlements and relatively small numbers. One way in which Amish people kept in contact with one another was through correspondence newspapers such as The Belleville (Pennsylvania) Times and The Sugarcreek (Ohio) Budget. Originally published as local papers, periodicals such as The Budget regularly printed news items from Amish communities far and wide. Thus, an Indiana Budget subscriber could read news not only of the publisher's Tuscarawas County, Ohio, area but also reports from settlements in Iowa, North Dakota, Nebraska, Maryland, and beyond.5
Others Who Rejected Modernity or Chose the Way of Tradition
The Old Order Amish were not the only religious group to spurn the progressive spirit of nineteenth-century life. Primitive Baptists, for example, rejected Sunday schools, church bureaucracy, salaried clergy, and innovations to traditional Calvinist doctrine. Some members of the Churches of Christ also rejected progressive institution-building and a professionalized pastorate. During the last quarter of the nineteenth century, an influential Protestant movement known as dispensationalism also dissented from the optimistic tenor of the times. Dispensationalists did not assume that North American society was improving, but rather that the world was becoming more corrupt as the second coming of Christ neared.
Among the Religious Society of Friends (Quakers), a conservative wing emerged between 1845 and 1904. Known as Wilburites, these traditional Friends preserved early Quaker worship practices and theology. Members also stressed the importance of wearing plain attire and maintained traditional Quaker speech patterns.
The Old Order groups that emerged among Amish, Mennonite, and German Baptist Brethren perhaps rejected most strikingly the spirit of nineteenth-century progressivism. Old Order Mennonite groups formed between 1845 and 1901 in Pennsylvania, Indiana, Ohio, Ontario, and Virginia. These tradition-minded Mennonites were concerned that the larger body of Mennonites was moving too quickly down the path of cultural compromise. Old Order Mennonites rejected Sunday school and church bureaucracy, and in most cases, also retained German-language worship. In contrast
Download


Copyright Disclaimer:
This site does not store any files on its server. We only index and link to content provided by other sites. Please contact the content providers to delete copyright contents if any and email us, we'll remove relevant links or contents immediately.