A Dom is for Life by Ashe Barker
Author:Ashe Barker [Barker, Ashe] , Date: November 23, 2020 ,Views: 10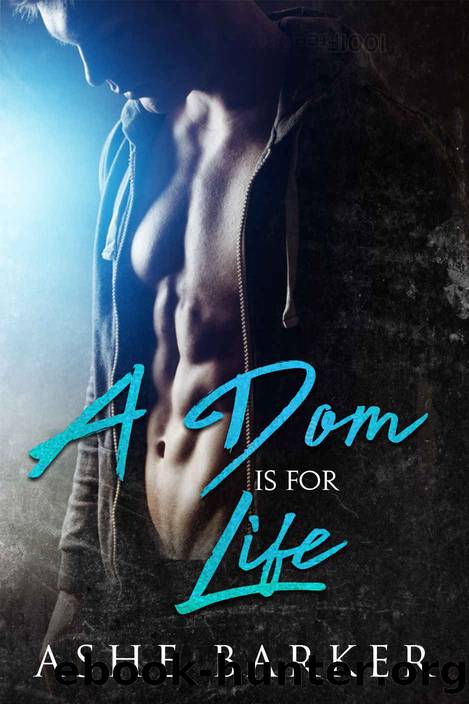 Author:Ashe Barker [Barker, Ashe]
Language: eng
Format: azw3
Publisher: Ashe Barker Books
Published: 2020-09-24T16:00:00+00:00



Chapter 10
Libby
We eat at a lively little trattoria a few minutes' walk from the Riverdale. It's all red, white, and green tablecloths, Italian music, and candles stuck in empty wine bottles. I choose a chicken pasta dish in a creamy sauce, and Josh goes for the cannelloni. I remember that was always his favourite.
"Do you want wine?" He scans the winelist. "We can share a bottle of Chardonnay."
"Best not," I reply. "I'm driving, and I already had two glasses of champagne."
"You could leave your car here," he suggests.
I consider that. I'm due at work tomorrow, but not until the afternoon so I'd have time to collect my car. But a taxi into Manchester from Knutsford would cost a fortune. I shake my head. "Could I just have sparkling water, please?"
"Fair enough. I'll have the same."
He orders the drinks and a garlic pizza to start. It's delicious, and since it turns out that neither of us has eaten since lunch time, we tuck in greedily. We make short work of the food and linger over cappuccinos.
I glance at my watch. Ten thirty. I don't want to suggest we end the evening here, but neither does it seem appropriate to invite Josh back to my house knowing he would stay the night. It's still too soon.
Isn't it?
"Tired?" he asks.
I shake my head.
"In that case, how would you like to go on somewhere? Do you have to get up early in the morning?"
"No. I'm not due at Carter and Benbow until one."
"Perfect," he murmurs. "In that case, and purely as part of your induction, naturally, shall we go to Heidi's?"
"The club? Now? When it's open?"
He shoots me a sensual grin. "Yes. You can get a better feel for the place. Maybe meet some of the staff."
There's logic to what he says, but something deep in my stomach recoils. A BDSM club? With Josh? And all those memories?
"I'm not sure," I begin. "Maybe it would be better if we—"
"No expectations, on either side. Just a visit. We needn't stay long, and we won't play if you don't want to."
"Play?" I'm beginning to sound like a total newbie.
"Or not," he repeats. "How about it?"
Even while I'm thinking about all the reasons this is a bad idea, and fully expecting good sense to prevail, I find myself nodding. "I'd like that," I say, "but, I'm not really dressed for a club."
"Me neither, but since I'm one of the owners, I doubt that will be an issue. You look beautiful, anyway. Classy and sexy. You'll fit right in." He raises his hand to summon the waiter and requests our bill.
Ten minutes later, we're hurrying along the road towards the car park.
I accept his offer to drive and hand over my keys, then settle into the passenger seat for the ten-minute hop to the outer industrial suburbs.
Josh manoeuvres the car into a space close to the door to the club. The parking area had been almost deserted earlier when I was here but is fairly full now. Several couples arrive at the same time as us.
Download


Copyright Disclaimer:
This site does not store any files on its server. We only index and link to content provided by other sites. Please contact the content providers to delete copyright contents if any and email us, we'll remove relevant links or contents immediately.