Zero Fail by Carol Leonnig
Author:Carol Leonnig [Leonnig, Carol] , Date: June 13, 2021 ,Views: 139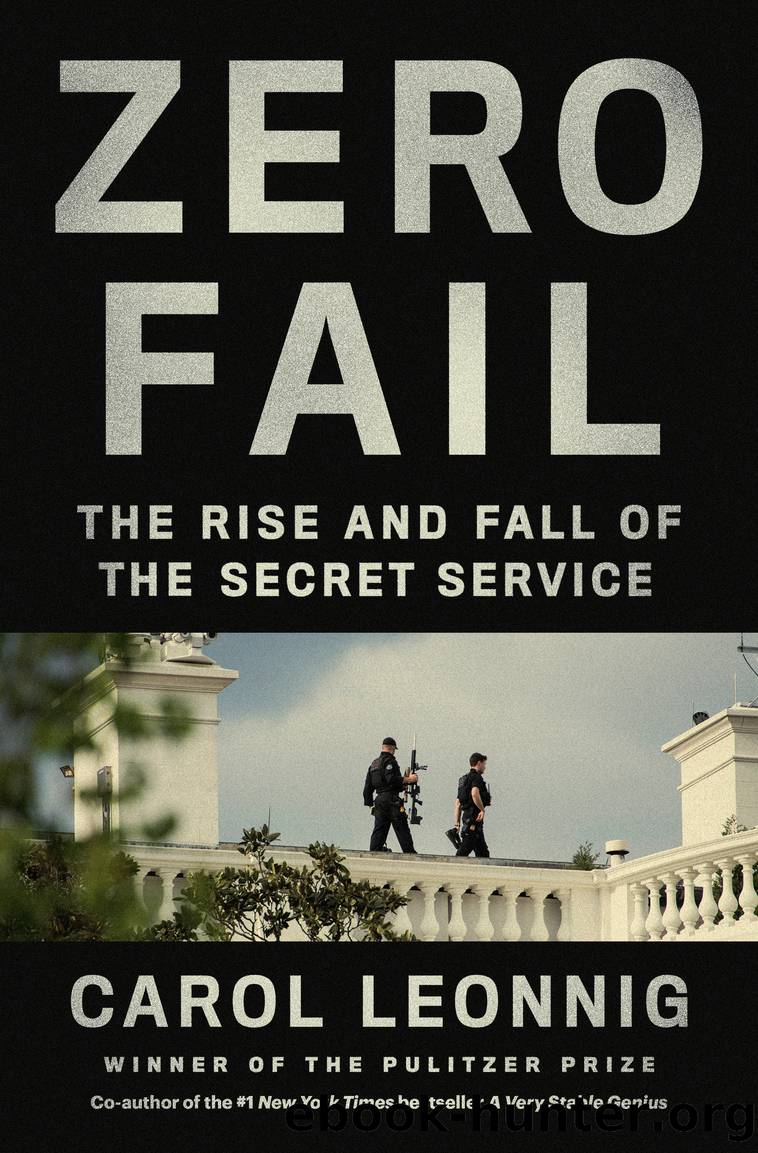 Author:Carol Leonnig [Leonnig, Carol]
Language: eng
Format: epub
Publisher: Random House Publishing Group
Published: 2021-05-18T00:00:00+00:00



* * *
—
"YOU KNOW YOU don't belong here," Stafford said gruffly.
The director, six feet three inches tall and broad-shouldered, stood to address Ralph Basham, the man who was the top contender to replace him. Stafford made little effort to control the frown hardening over his face at Basham's visit to headquarters. A beefy former football player, Stafford remained in tip-top shape at age fifty-four. Without trying, he loomed large.
"I'm asking you not to accept the position," he said. "This will become a political position if you take it."
Stafford was frankly used to getting his way, yet it appeared quite likely he was going to lose the battle over his replacement. Thanks to the White House, his days were numbered and his opinion on the matter was being dismissed.
Basham looked at the outgoing director, pondering for a moment how best to respond. He chose to adhere to the Bush family creed: civility first. "I understand you're not happy," Basham told Stafford. "But I didn't ask for this job. I'm here because the president asked me."
At five feet ten inches, with gray hair and wire-rimmed glasses, Basham cut a far less imposing figure than Stafford, looking more like a folksy college dean than a security agent. The sixty-year-old retired administrator had considerable advantages in the Bush White House, though. More than a decade ago, Basham had forged a close bond with the first President Bush, George H. W. Bush, while serving on the vice president's detail in the late 1980s. He was even Bush's occasional partner on the tennis court. Over the years, Basham rose to management posts at other federal law enforcement agencies, including assistant director of the Service. One of Basham's closest friends from the days on the road with the vice president was 41's former "body man," Joe Hagin. Now Hagin had risen to become 43's deputy chief of staff. The president would decide on the new director but would seek Hagin's recommendation.
To those watching the drama from outside the Service, Basham's selection didn't seem so strange. He was an agent the president and his aides knew well, just as Clinton had known Stafford well. "I can see why they chose him: calm, steady, model of rectitude," said a former senior Bush appointee. "He was head of [George H. W. Bush's] detail at some point. That's the route to becoming director. Maybe that's not the best way to choose the director. But that's how the White House gets to know the agents."
Both Basham and Pickle had been clued in by friends to Stafford's behind-the-scenes complaint about considering former agents, and the complaints raised at the former SAICs Christmas luncheon. They'd also both heard from friends that Stafford went so far as to dispatch senior agents to lobby key lawmakers against their selection.
In his standoff that day in January, Stafford told Basham: "You know this is wrong."
Basham smiled with gritted teeth. He knew something the current director didn't. He'd already accepted Stafford's job.
Download


Copyright Disclaimer:
This site does not store any files on its server. We only index and link to content provided by other sites. Please contact the content providers to delete copyright contents if any and email us, we'll remove relevant links or contents immediately.