Why Work Sucks and How to Fix It: The Results-Only Revolution by Cali Ressler;Jody Thompson
Author:Cali Ressler;Jody Thompson , Date: November 1, 2021 ,Views: 269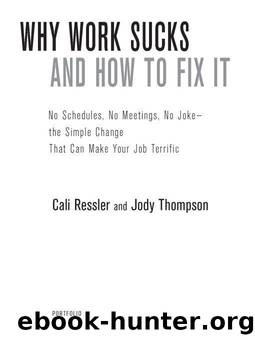 Author:Cali Ressler;Jody Thompson
Language: eng
Format: mobi
Tags: Human Resources & Personnel Management, Management, Workplace Culture, Motivational, Business & Economics
ISBN: 1591842921
Publisher: Portfolio Trade
Published: 2010-12-15T00:00:00+00:00



But if no one can be considered late and no one can be considered as leaving early, then time loses its power.
In a ROWE you don't use time to judge your own performance.
In a ROWE you don't use time to judge your coworkers' performance.
In a ROWE managers can't use time as a means of controlling their employees.
In a ROWE control over one's time is no longer a perk for the select few.
The way to promote this new sense of time and to eliminate the old is through very open and transparent Sludge Eradication. In the beginning a lot of teams make a bit of a game out of Sludge Eradication. People call out their coworkers for Sludge and since it's everywhere every day, this can almost become a sport. "You're Sludging me, Jan!" and "I caught that remark about how long my lunch was, Bob!" Even though this sounds like a small thing, just the fact that anyone has the power to call out anyone else for Sludge based on time is a big deal. And as long as you're getting results you can wield this power without shame or embarrassment. Everyone knows that standing up for the work (and not tolerating discussions about time) is part of what makes a ROWE.
Download


Copyright Disclaimer:
This site does not store any files on its server. We only index and link to content provided by other sites. Please contact the content providers to delete copyright contents if any and email us, we'll remove relevant links or contents immediately.