Walking in the Will of God by McVey Steve
Author:McVey, Steve [McVey, Steve] , Date: July 20, 2020 ,Views: 173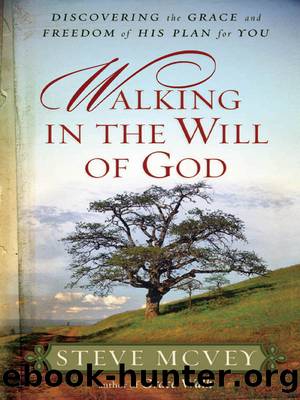 Author:McVey, Steve [McVey, Steve]
Language: eng
Format: epub
Publisher: Harvest House Publishers
Published: 2009-03-31T16:00:00+00:00



C HAPTER 6
Follow Your Heart
"PLEASE PRAY FOR US that we will know the right decision to make," Larry asked the small group that met in his home. "We believe that taking the job I've been offered in Dallas is the right thing, but we want to make doubly sure we aren't missing God's will. You know how deceptive the devil can be. I don't want to be misled by him. The way he deceives us sometimes is so insidious, and I don't want to be fooled. We know he is cunning, and we really want to hear from God on this situation."
As Larry talked, it began to sound like the time had been set aside to honor Satan himself. More was said about the devil's ability to mislead us than anything else. Of course, there is no doubt that Larry's sincere desire was to know and do God's will, but listening to the way he talked, you'd think that the ability of the enemy to deceive us is greater than God's ability to keep us in His will.
Larry is no different than many Christians today. They live a life filled with fear that they're going to do the wrong thing. They tiptoe through this world like scared little kids in a haunted house. I meet them all the time. They say, "Steve, pray for me. Pray that I won't miss the will of God." Or, "Satan is so powerful and so deceptive. Pray for me. I don't want to miss the will of God." Or, "I want to stay in the center of God's perfect will. I can be deceived and make a mess of my life if I go out there apart from God's will." They go on and on about the ability of the enemy to deceive them. When they do make decisions, they're so scared they're going to miss God's will that they're always timid, tentative, and unsure.
When it comes to making decisions regarding God's will, many Christians seem to abandon faith altogether. Instead, they express great fear that they're going to miss His will. Their fear so handicaps them that they sometimes do practically nothing of any real spiritual significance. They'd rather do nothing than take the risk of making a mistake.
The Trap of Analysis Paralysis
Believers who fall into this kind of thinking are victims of one of the enemy's greatest weapons—analysis paralysis . I don't know who coined that term, but it clearly describes how many people live their lives. But the solution to the problem isn't complicated. Grace never is, if we will just accept the simple truth.
Think of it this way: Imagine that you're standing in the center of a large field. You can see the horizon all around you in every direction. Ahead, you can see the ocean, with the waves lapping up on the shore. Off to one side, in another direction, you can see a mountain range with snow-covered peaks. Behind you is a meadow filled with wildflowers, and you see the breeze gently blowing across the field.
Download


Copyright Disclaimer:
This site does not store any files on its server. We only index and link to content provided by other sites. Please contact the content providers to delete copyright contents if any and email us, we'll remove relevant links or contents immediately.