US Army Soldier by Kenneth Estes
Author:Kenneth Estes , Date: September 16, 2020 ,Views: 26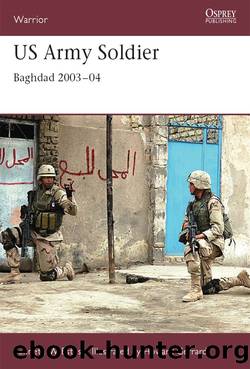 Author:Kenneth Estes
Language: eng
Format: epub
Tags: US Army Soldier: Baghdad 2003–04
ISBN: 9781780963624
Publisher: Osprey Publishing
Published: 2011-12-14T16:00:00+00:00



Training the new ICDC, later the NIA, became a chief concern for TF 1st Armored Division, and here the 2d Brigade 82d Airborne and 2d ACR took the lead in training troops and leaders in an ICDC Academy system. Here recruits learn combat movement techniques.
The campaign plan called for the destruction of the remaining paramilitary forces and the installation of Iraqi civil guard forces during July 2003. At the same time, an Iraqi army would begin to form, public services resume their functions, and US military forces could free up manpower for new initiatives. In August these initiatives would include a program of training for the New Iraqi Army (NIA), neutralizing subversives, and defeating remaining criminal gangs. Protecting the first local elections would encourage transitions to local authority, permitting the removal of US forces from urban areas. The division planned to move out of the city to consolidated FOBs in late September and remain ready to conduct combat operations, assist or otherwise reinforce Iraqi security forces, and even expand the divisional zone of responsibilities as organizations such as the airborne units and 3d ACR (western Iraq) began to redeploy back to home stations. By early December the 1st Armored Division would leave its FOBs and redeploy to home stations. The "end state" under this plan foresaw the destruction of significant opposition to the Iraqi government. The plan expected that the Iraqis, for their part, would emplace site protection forces and full police capabilities, and establish an interim government with a new army in training. A single US light infantry division would suffice to replace the multi-division occupation force of the previous six months.
Download


Copyright Disclaimer:
This site does not store any files on its server. We only index and link to content provided by other sites. Please contact the content providers to delete copyright contents if any and email us, we'll remove relevant links or contents immediately.