The Long Range Desert Group 1940-1945 by David Lloyd-Owen
Author:David Lloyd-Owen , Date: January 13, 2019 ,Views: 366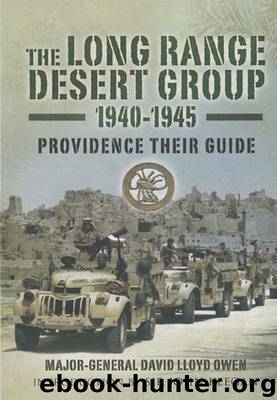 Author:David Lloyd-Owen
Language: eng
Format: epub
ISBN: 9781473814974
Publisher: Pen and Sword



It would seem a little presumptuous of me to attempt to add to such a well-informed source's view as to the value that was placed upon the Road Watch contemporaneously. It is perhaps of interest for anyone else making an assessment to record that the establishment for the LRDG provided for a total of 25 officers and 278 other ranks. Of the officers one was a 3rd Class Mechanical Engineer in charge of the Light Repair Squadron and one a Royal Signals captain. Of the soldiers 35 were RAOC Armament Artificers and Fitters, and there were 33 Signalmen. It is therefore difficult to argue the case that an excessive number of specialists and technicians were taken from other units.
Many other tasks were pouring in for the LRDG at this time, mostly connected with reconnaissance of terrain for future moves by Eighth Army, while there were many agents to be taken to or collected from their destinations. And once more the LRDG was to join up with General Leclerc and the Free French in Chad, with the object of helping them in their advance towards the Fezzan.
A Rhodesian Patrol went to Zouar at the end of November, and did invaluable work acting as the eyes and ears of the French force. Just after Christmas they were all poised to take Gatrun, and one of the Rhodesian trucks went forward to the oasis to test enemy reactions—if any. This caused an immediate artillery and Breda retaliation, and soon after this the truck was attacked by six fighters and two bombers. The Rhodesians opened up with all their guns, and they were credited with the destruction of one of the aircraft. This sort of thing continued for a week, and one by one the Italian garrisons in the Fezzan lost heart and surrendered to the advancing French.
On the coast the knowledge that the LRDG had gained about the lie of the land ahead of the Eighth Army was in tremendous demand, and the first of these very successful patrols was when Tony Browne led the New Zealand Division and the 4th Light Armoured Brigade to outflank the El Agheila position which Rommel was still holding at the end of December.
As I write this I have in front of me Tony Browne's notebook, which his widow gave me after Tony's early death from cancer, nearly thirty years after he led his New Zealand Patrol to guide General Freyberg's force on this left-hook. He gives his task to navigate 2 NZ Division and 4th Light Armoured Brigade from El Haseiat to Marble Arch, thence west to Nofilia. He adds that they were involved in action with the enemy rearguard, and were heavily shelled before the Division captured four hundred prisoners, five tanks and eighteen guns.
Soon after this Tony was ordered to report on the 'going' in three wadis to the west of Sirte, and it was here that he was injured when his truck was blown up on a mine, and a South African officer with him was killed.
Download


Copyright Disclaimer:
This site does not store any files on its server. We only index and link to content provided by other sites. Please contact the content providers to delete copyright contents if any and email us, we'll remove relevant links or contents immediately.