The Fairy Tale Detectives by Michael Buckley
Author:Michael Buckley , Date: March 14, 2016 ,Views: 106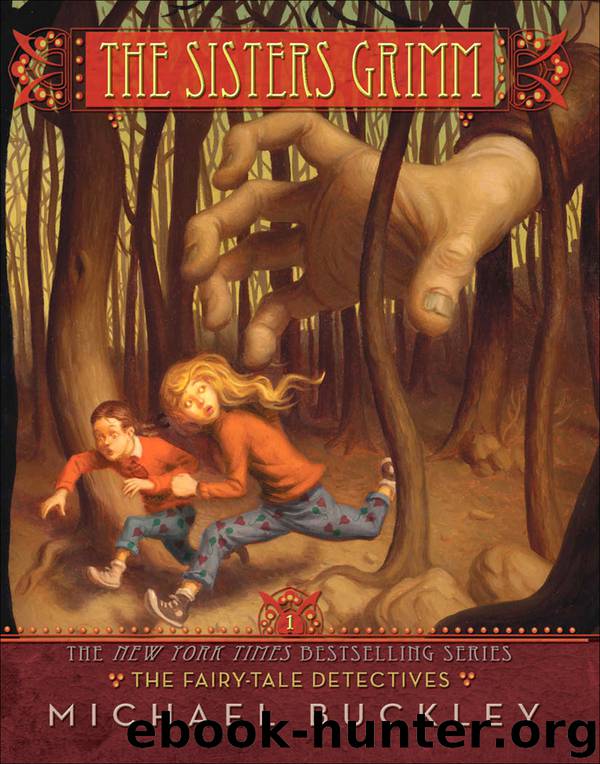 Author:Michael Buckley
Language: eng
Format: epub
Publisher: Amulet Books
Published: 2011-03-24T16:00:00+00:00



'd like to see you try," Puck said defiantly.
A six-foot-high circle of fire snaked around the group, trapping them inside. The flames licked at the pots and pans the children had hoped would act as armor, and managed to scorch Sabrina's hand. She pulled it close to her and rubbed the painful burn.
"I WILL ROAST THE FLESH FROM YOUR BONES!" the face threatened. Dark gray clouds framed the bulbous head in a violent thunderstorm. Lightning crackled around the face, exploding in light and sound with every twitch of its eyebrows. "Who dares to invade my sanctuary?"
Sabrina pulled Daphne close to her, while Puck stepped between them and the closest flame, thrusting his little sword into the wall of fire. "We're not invaders! We live here!" he shouted over the roaring fire.
The face cocked an eyebrow and looked at them sternly.
"You're the grandchildren?"
"Yes! Sabrina and Daphne!" Sabrina shouted.
"And Puck!" Puck chimed in.
Suddenly, the fire puttered out, as if someone had turned off a stove.
"Oh, thank goodness. I thought carnival folk had broken into the house," the head cried. "You can hardly blame me, three kids break into my room and they're dressed like escaped inmates from the Ferryport Landing Asylum. You may not have heard, but the whole circus-clown-meets-crazy-street-vagrant-look is so over."
Sabrina looked down at her outfit: the torn, bright-blue pants, the orange sweatshirt with the monkey, the pressure-cooker lid strapped to her behind. Her face flushed with embarrassment as she took off her spaghetti-strainer helmet.
"What are you?" Sabrina asked, regaining her composure.
"I'm not a what, I'm a who!" the face in the mirror croaked, looking deeply insulted.
"Then who are you?" Sabrina said impatiently.
"Tsk, tsk, tsk, why I'm the seer of seers, the visionary of visionaries, the man who puts the fun in your reflection," he replied with a dramatic flourish.
Sabrina looked at her sister for help. Daphne had read more fairy tales than Sabrina, but the little girl returned her sister's glance with a dumbfounded shrug. The face in the mirror frowned, sensing that the girls were far from star-struck and, in fact, had no idea who he was.
"I'm the magic mirror!" the face snapped.
"We could have guessed you were a magic mirror," Puck muttered.
"Not a magic mirror! The magic mirror! 'Mirror, mirror, on the wall'?"
"From 'Snow White'?" Daphne asked.
"Is there another?" The face growled. "You can call me Mirror. Your grandma told me you were coming from New York City, though she didn't tell me she was giving you a set of keys."
"She didn't. Granny threw hers to us before she was carried off by a giant," Daphne explained.
Mirror's eyes grew wide with astonishment.
"Well, there's a sentence you don't hear every day." He chuckled. "And I suppose you are in the midst of a rescue plan?"
"They are," Puck said defensively. "I'm a villain."
"So, let's hear this thrilling plan," said Mirror.
"We haven't got all the details worked out yet," Sabrina said, trying to make herself sound older and more mature.
"You don't have a plan!" Mirror exclaimed.
"We're still working on it," Sabrina muttered.
Download


Copyright Disclaimer:
This site does not store any files on its server. We only index and link to content provided by other sites. Please contact the content providers to delete copyright contents if any and email us, we'll remove relevant links or contents immediately.