The Apollo Chronicles by Brandon R. Brown
Author:Brandon R. Brown , Date: August 6, 2020 ,Views: 286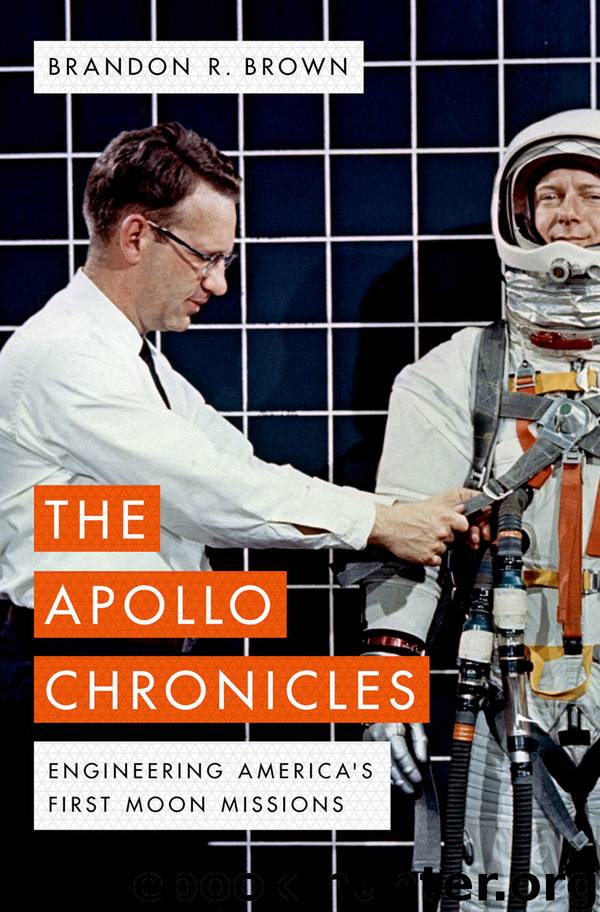 Author:Brandon R. Brown
Language: eng
Format: epub
Publisher: Oxford University Press
Published: 2019-08-05T16:00:00+00:00



figure 9.3 The Moon's Copernicus Crater as viewed by Lunar Orbiter II. This 2013 version greatly improves the version released in 1966, thanks to the Lunar Orbiter Image Recovery Project. Like the Soviet Luna probes, the Lunar Orbiters had to develop their own film and scan the images before transmitting the results to Earth. (NASA/LOIRP photograph.)
* * *
i This was John Norton of contractor TRW.
ii This gives a simplified version, but for readers who are physics nerds, I will add that the metal rings were circularly magnetized (i.e., clockwise versus counterclockwise). For computer nerds, there was also a small dynamic memory, where the currents could "write" the cores by reversing their clockwise versus counterclockwise magnetic polarities.
iii Astronauts Elliot See and Charles Bassett died February 28, 1966.
iv Astronauts Neil Armstrong and David Scott survived the troubled flight of Gemini VIII on March 16, 1966.
v Astronaut Eugene Cernan toiled outside the Gemini capsule for about two hours on June 5, 1966, and was helped back aboard by Mission Commander Thomas Stafford.
Download


Copyright Disclaimer:
This site does not store any files on its server. We only index and link to content provided by other sites. Please contact the content providers to delete copyright contents if any and email us, we'll remove relevant links or contents immediately.