Taken by the Wind by Ellen Hart
Author:Ellen Hart [Hart, Ellen] , Date: January 14, 2021 ,Views: 30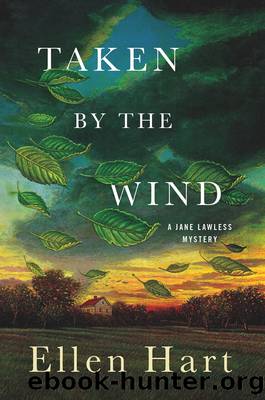 Author:Ellen Hart [Hart, Ellen]
Language: eng
Format: epub
Publisher: St. Martin's Press
Published: 0101-01-01T00:00:00+00:00



19
"I feel like the proverbial rat," said Cordelia, the last words of the cliché left unspoken as she held the trunk of her car open while Jane lifted in her overnight bag.
"Nothing proverbial about you," said Jane with a smirk.
"I am not saying I think this situation is a sinking ship. It's just, I have to get back to the Cities because of the infestation."
Cordelia had been on the horn earlier with Bolger, who informed her that Hattie's bug collection, the one she hid in her closet—the one nobody knew about—had somehow made a jailbreak. Centipedes, spiders, flies, silverfish, and a veritable flotilla of other tiny insects were roaming the loft at will.
"Thank God Bolger was there to take charge. He's calling a pest control company."
"Is Hattie okay with all the potential destruction of life?" asked Jane.
"She's not the least bit bothered—as long as she gets to do the autopsies."
"Excuse me?"
"Don't you remember when Blanche came inside with two huge, horribilious june bugs attached to her fur?"
"Not really." Blanche was the matriarch of Cordelia's cat colony.
"Bolger and I were both scared to death that their demise would send Hatts into a paroxysm of grief. Turned out, she was fascinated. She used a magnifying glass to dissect the carcasses."
"Maybe you're raising a medical examiner."
Cordelia shivered. "Hattie's a strange child. Sometimes I wish she could be strange in a normal way. You know, like have a crush on Bette Davis—"
"Or Natalie Portman."
"Right. Or insist on viewing Alfred Hitchcock's complete oeuvre in one sitting."
"Like you did when you were a kid."
"Exactly."
Jane shrugged. "Different strokes."
"How lovely, Jane, that you can so concisely sum up Hattie's psychological depths."
They were standing outside the motel, sweating in the oppressive evening heat. Jane looked up at the cloudless twilight sky and said, "We need a storm to break this weather."
"We need something all right," said Cordelia, sliding in. She had a red bandana tied around her head, more as a fashion statement than a sweatband, though it would serve both purposes. She loved to drive with the top down, the wind providing the air-conditioning. "I wish you luck. Are you going back to the farmhouse tonight?"
"Not unless something happens."
"Well, be safe. Text me with updates. And don't do anything I wouldn't do—and I wouldn't do anything dangerous." She saluted and then backed the car up and eased out onto the street, waving as she sped away into the night.
Feeling at loose ends, Jane decided to walk into town and look for a place to have dinner and a glass of wine. After the day she'd put in, she figured she deserved it. She washed up in the bathroom, then locked the motel room and headed toward Main.
Passing Lindstrom's Bar & Café on her way to the spot where she'd eaten breakfast, she stopped to look in the window. It was just after nine. The café was dark, but continuing on a few steps, she found the bar still open, with half a dozen people gathered at a single
Download


Copyright Disclaimer:
This site does not store any files on its server. We only index and link to content provided by other sites. Please contact the content providers to delete copyright contents if any and email us, we'll remove relevant links or contents immediately.