Moon and Stars by Zahra Owens
Author:Zahra Owens [Owens, Zahra] , Date: May 26, 2023 ,Views: 36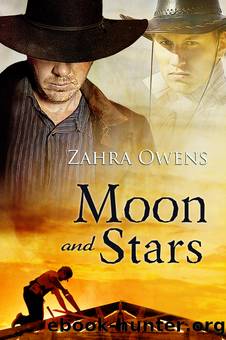 Author:Zahra Owens [Owens, Zahra]
Language: eng
Format: epub
Publisher: Dreamspinner Press



21
COOPER was sitting alone in the kitchen of the crew house, bent over some of his old law books, when footsteps caught his attention. Usually he didn't look up, since guys were always coming and going in the evening, but these steps stopped right in front of the kitchen table.
"Deputy Freed. What brings you here?" he said, closing the book before looking up.
Kelly was still in uniform, turning his hat in his nervous hands. "I came to…. Can we go somewhere more private?"
Cooper surveyed his surroundings. The door to the TV room was ajar, and they could hear faint noises of some movie playing, but there didn't seem to be a lot of guys watching it. "Unless you want to bend me over the table, I think we're safe."
Kelly didn't smile at Cooper's obvious taunt.
"Lighten up, Deputy. I'm not carrying a grudge."
"Stop calling me that. I didn't think I was anything other than Kelly to you."
"You're in uniform," Cooper started, smiling broadly at Kelly. He hadn't been entirely truthful about not carrying a grudge. He'd felt rejected and used after Kelly had made it clear their relationship would never see the light of day, and they hadn't talked since, so he was still feeling like he needed to give him a hard time. Kelly's demeanor, slumped over and submissive, which looked a little strange on such a broad man, made Cooper soften, though. "It's not that I don't like your uniform, but it always makes me want to call you Deputy." He gestured at the bench on the other side of the worn table. "Sit. You're too tall to look up to all the time from where I'm sitting."
Kelly sat down, his hat next to him on the table and his elbows resting on the worn wood. He was still making himself smaller than he was, and Cooper almost instinctively sat up straighter. He stacked his books and tried to make it seem accidental when his knuckles brushed over Kelly's folded hands. It wasn't, though. Their interaction, now almost twenty-four hours ago, had lit a furnace in him that was hard to suppress. Despite being the rational one and ending it, Cooper still craved Kelly.
"So what are you looking for in your old law books?" Kelly asked casually.
"Family law. Child custody."
"For Gable?"
"For everyone. Temporary and permanent," Cooper replied. "Calley needs to put everything in order. Ideally, this would mean she needs to get custody away from Bill and set Gable up as legal guardian for her twins, maybe even Flynn as a second legal guardian."
"That may be pushing it a bit."
Cooper looked up at Kelly. "We don't need to establish Gable and Flynn's relationship for that. If we let the courts decide, it's never going to happen, but if Bill no longer has legal guardianship, Calley can decide on her own who becomes the children's guardian or guardians, plural, in case of her death."
"And what about Noah and Ryan?"
"That's another matter," Cooper said with a sigh. "They're wards of the state.
Download


Copyright Disclaimer:
This site does not store any files on its server. We only index and link to content provided by other sites. Please contact the content providers to delete copyright contents if any and email us, we'll remove relevant links or contents immediately.