Men, Women, and the Mystery of Love by Edward Sri
Author:Edward Sri [Sri, Edward] , Date: July 3, 2020 ,Views: 184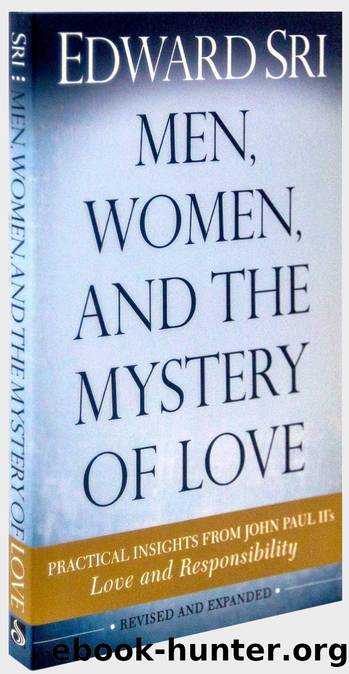 Author:Edward Sri [Sri, Edward]
Language: eng
Format: epub
Tags: Religion, Christianity, Catholic, Christian Life, Family, Love & Marriage
ISBN: 9781632530806
Google: q176sgEACAAJ
Amazon: 1632530805
Publisher: SERVANT BOOKS
Published: 2015-10-12T23:00:00+00:00



Chapter Eight
The Battle for Purity
The battle for purity ultimately is fought deep in the recesses of the human heart. Our hearts were made to love, but since the Fall, they have been tainted by a desire to use others. In this reflection, we will see that chastity is so much bigger than simply saying no to certain sexual actions we may commit in the body. In the end, chastity is a matter of the heart.
Chastity: One Long No?
Chaste literally means clean: Christians have long used this word to describe the particular virtue that moderates our sexual desire. But this is not because sexual desire itself is somehow unclean or dirty. In fact, John Paul II warned against a negative view of chastity that turns this virtue into a mere suppression of sensual desire—"Just don't have sex before you're married!" In this negative light, chastity becomes merely "one long 'no'" (170). This kind of suppression can have serious consequences for the human person:
Chastity is very often understood as a "blind" inhibition of sensuality and of physical impulses such that the values of the "body" and of sex are pushed down into the subconscious, where they await an opportunity to explode. This is an obviously erroneous conception of the virtue of chastity, which, if it is practiced only in this way, does indeed create the danger of such "explosions." (170)
We must see chastity as a positive virtue that enables us to love and protects love from being tainted by the selfish tendency to use the other person for our own pleasure. John Paul II said chastity is emphatically not "one long 'no.'" Rather, it is first and foremost a yes—a yes in our heart to the other person, not just to his or her sexual values. It is a yes that requires us to say no to other things in order to protect love from falling into utilitarianism.
Pure Love
This positive, wider context of love for a person is key to understanding the Church's teaching on sexual morality. Joe, for example, truly wants to love his girlfriend as a person and not just as a source of pleasure. He chooses not to engage in sexual activity with her, understanding that sexual intercourse is meant to express total self-giving love.
A sexual expression of complete self-giving love makes sense within marriage, where husband and wife surrender themselves to each other completely in a lifelong commitment of love. Joe and his girlfriend, however, have not yet entered into such a relationship of full commitment and self-gift. A sexual relationship for them, therefore, would be a lie: Devoid of the total lifelong commitment to each other as persons and the complete self-giving love that comes in marriage, sexual intercourse in the end would be about using each other for the pleasure associated with this profound act of love. Therefore, choosing chastity helps free them from such pleasure-seeking utilitarianism and enables their relationship to develop, possibly, into a deeper self-giving love.
In short, chastity moderates our human desires for
Download


Copyright Disclaimer:
This site does not store any files on its server. We only index and link to content provided by other sites. Please contact the content providers to delete copyright contents if any and email us, we'll remove relevant links or contents immediately.