Mantle of the Prophet by Mottahedeh Roy;
Author:Mottahedeh, Roy; [Mottahedeh, Roy] , Date: February 24, 2017 ,Views: 450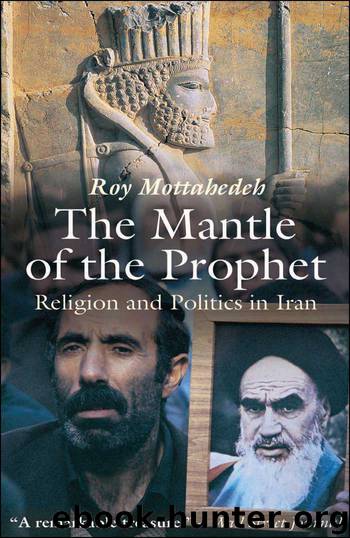 Author:Mottahedeh, Roy; [Mottahedeh, Roy]
Language: eng
Format: epub
Publisher: Oneworld Publications
Published: 2016-07-04T16:00:00+00:00



CHAPTER SEVEN
FOR ALL his past travels to Mecca and other parts of the Middle East, when Ali came home in 1968 from two years in Najaf, at age twenty-five, it was different. He rode the last leg of the journey, the road from Tehran to Qom, in the car of his older brother, who had come to pick him up at the airport. After they passed the huge army base at Manzariyeh with its steel-and-barbed-wire fences running at mad angles up and down the hills, they started up the last long rise before Qom. Then, from the top of the ridge, they saw the valley with a patch of mingled green and brown at its end where their home town lay. Ali, who at the start of the trip had assumed some of the dignity he felt he had acquired through his advance in age and learning, had gradually become more talkative and "more on the boil," as one says in Persian, as they got farther away from Tehran. When they saw Qom in the distance Ali recited a favorite line from Mowlana:
Should your journey take you even to Rome or Cathay,
How could the love of home ever leave your heart?
His brother joined in with a line from Hafez:
Who will spread the name of Egypt's sweets in this place
Whose sweet people find no fault in their city's taste?
Ali suddenly felt he could admit to himself how alien Najaf had felt for all his success there as a student and a teacher. It wasn't the effort of teaching in Arabic and establishing his credentials to a new group of equals and superiors. It wasn't really anything about Najaf itself—its cantankerous shopkeepers and landlords, who loathed talabehs, especially those from Iran, or its unrelievedly flat surroundings, where seas of slow-moving sand ran into plains of sun-baked mud. In fact, Ali had found that he had liked some things about his surroundings. He had liked to swim in the enormous width of the Euphrates, which ran near Najaf, and he very much liked being near the tomb of his namesake Ali in Najaf and near the tomb of Hosain in the nearby town of Kerbela. It was just that Ali realized how very much he loved the dry hills around Qom, its rocky half-empty river, its outlying shrines, and the unexpected greenness of its orchards. Above all, he realized how very much he loved the Persian language; as the proverb said, Arabic is learning, but Persian is sugar. In Persian he could deal with people to the best of his abilities—persuade them if he were giving a sermon, smooth the turbulence between them when they were in conflict, even charm them with the Persian verses he could sometimes compose on the spot.
Homecoming was also different because Ali now tasted the delight of being a master in the house of learning in which he had been a servant. He had taught briefly in Qom before leaving for Najaf, but now he was a regular teacher in his own school, the Faiziyeh.
Download


Copyright Disclaimer:
This site does not store any files on its server. We only index and link to content provided by other sites. Please contact the content providers to delete copyright contents if any and email us, we'll remove relevant links or contents immediately.