Management of Portfolios by Best Management Practice
Author:Best Management Practice , Date: July 5, 2020 ,Views: 247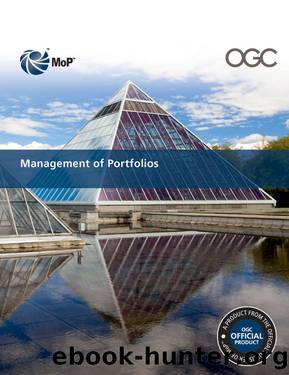 Author:Best Management Practice
Language: eng
Format: epub
ISBN: 9780113312948
Publisher: London: TSO



Consideration of such factors under the dual headings of 'attractiveness/return' and 'achievability/risk' allows the potential initiatives to be represented in a portfolio map such as is shown in Figure 6.5.
Note: a key decision will be whether to allocate funding to mandatory projects – for example, those in relation to a legal or regulatory requirement – before prioritizing the remaining spend. Alternatively, all initiatives, including mandatory ones, can be included in the prioritization exercise. Some organizations adopt the latter route as it focuses attention on the scale of mandatory spend and ensures that the options selected to meet a mandatory requirement are cost-efficient when viewed from a portfolio perspective. An alternative approach is to establish a separate portfolio category/segment for mandatory initiatives. Whatever approach is adopted, claims of meeting mandatory requirements should not just be accepted at face value – there should be adequate review to ensure that the requirement is indeed mandatory and the planned response is proportionate and cost-effective.
In some portfolio management environments, prioritization can be a highly complex and mathematical process – for example, where the analytical hierarchy process is used, by which strategic objectives are weighted using pair-wise comparisons (as was introduced in section 4.5) and the strategic contribution of each initiative to each objective is then rated from none to extreme.34 Such calculations are aided by the use of relevant software tools. However, for the purposes of this guide the key concepts will be discussed using simplified examples that can be adapted to suit any organization. It should also be noted that this is an area where sophisticated approaches are not necessarily more reliable than simple ones – there is always the risk of spurious accuracy. Ultimately, there is no replacement for management judgement, although an objective approach to prioritization can help managers make more informed, consistent and transparent decisions.
Example: Prioritization – keeping it simple and relevant35
In order to make a measured and balanced judgement on the correct portfolio content, HMRC determined a set of benefit categories and prioritized them according to Treasury priorities. These categories included tax yield, staffing headcount reductions, customer benefits and cost savings. By taking these elements into account across the portfolio options, and by mapping the time and cost of delivering these benefits from a range of possible programmes and projects, HMRC arrived at an optimum affordable portfolio.
Simple tools were developed to allow the implications of each portfolio option to be clearly understood and avoid too much complexity and automation that could mask real-world issues and decision implications from the portfolio governance committees.
Download


Copyright Disclaimer:
This site does not store any files on its server. We only index and link to content provided by other sites. Please contact the content providers to delete copyright contents if any and email us, we'll remove relevant links or contents immediately.