Large Dams by Thayer Scudder
Author:Thayer Scudder , Date: June 28, 2020 ,Views: 138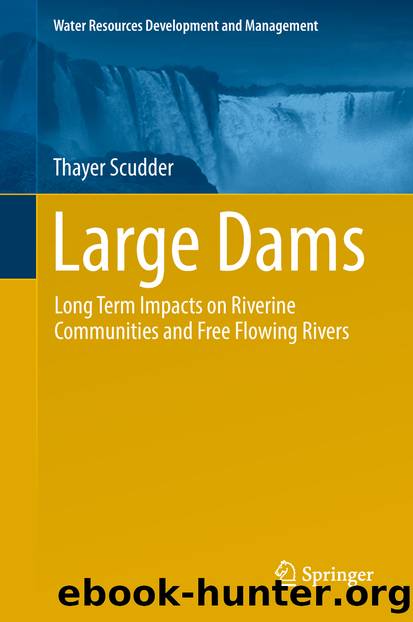 Author:Thayer Scudder
Language: eng
Format: epub
ISBN: 9789811325502
Publisher: Springer Singapore



b.produce and selectively distribute key materials (papers, reports, handbooks) on research topics;
c.maintain a network of relevant experts;
d.conduct periodic training workshops on key issues/topics; and
e.upgrade their staff and strengthen their institutional base in order to conduct research programs."19
The key advantage of SARSA for IDA is that it supported multi-year activities and provided core support for staff, library, and publications. Funding through AID would occur as two types of annual amendments to the Cooperative Agreement: core funding as determined by the SARSA Steering Committee with the consultation of the AID Project Manager and Add-on Funds (called Buy-ins) provided periodically "to support specific efforts defined by AID missions and bureaus."20 Core funding during the last year of SARSA I was $200,000 and $500,000 for each of the five years of SARSA II. "Buy-in" funds were expected to further the SARSA II research agenda, with Clark, IDA and Virginia tech encouraged to seek relevant Buy-ins from AID/Washington and country missions.
A difficult period in Clark/IDA cooperation occurred during the 1984 transition and throughout SARSA I that warrants further discussion since it illustrates the type of administrative problems that can occur during the lifetime of Cooperative Agreements involving multiple institutions. Part of the problem was due to the nature of the agreement between AID and Clark which did not mention IDA as a subcontractor so that the Memorandum of Agreement between Clark and IDA was the only instrument that formally notes IDA's "participation in the Cooperative Agreement."21
At the very beginning of SARSA 1, a financial misunderstanding led Clark in error to deduct in the mid-1980s $93,000 from IDA's Core funding. In a July 11, 1985 letter to Clark's Director, Vera Beers wrote "You can imagine my dismay yesterday when I … discovered that there was a discrepancy of some $93,000 between what I know to be the Institute's current balance in the [IDA SARSA I] core" and Clark's records. Though the error involved was quickly found and corrected, Vera's letter emphasized "how the whole episode was nevertheless disturbing and, quite honestly, rattled both Peter [IDA's SARSA manager] and me most of the day." Also "disconcerting" was the fact that $25,000 was taken off the top of IDA's SARSA core "for Clark's administration of the Cooperative Agreement" and that "the 'burden of proof' falls on the Institute no matter where the problem lies."
It was a continuation of such problems during SARSA I that led to essential clarifications in SARSA II's 1989 Memorandum of Understanding between Clark, IDA and Virginia Tech. Especially important was emphasis that future activities would be resolved by a four person Steering Committee. As equals, each of whom would have one vote, decisions would be made by a majority of Clark, IDA, and Virginia Tech's representatives following discussions in which there would be no vetoes. The AID Project Manager, who will chair each of the eight meetings per year, will not be a voting member of the Steering Committee.22
Another concern, which adversely affected both Clark and IDA was uncertainty as to whether SARSA I
Download


Copyright Disclaimer:
This site does not store any files on its server. We only index and link to content provided by other sites. Please contact the content providers to delete copyright contents if any and email us, we'll remove relevant links or contents immediately.