Holiness is Easy by Ross Thompson
Author:Ross Thompson , Date: July 28, 2020 ,Views: 132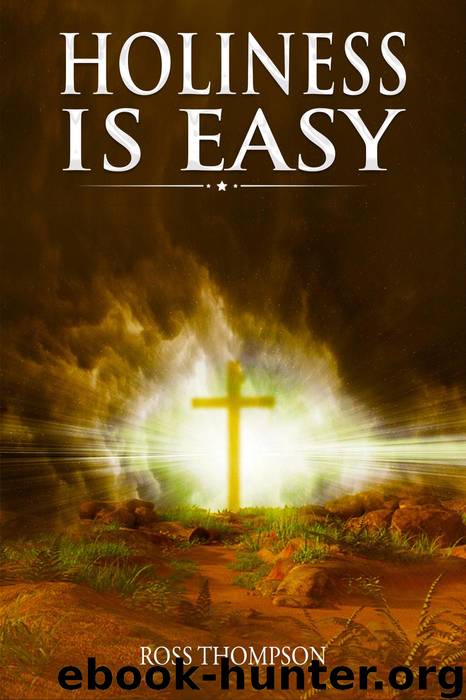 Author:Ross Thompson
Language: eng
Format: epub
Tags: New Testament holiness, Christian holiness, Christian living, Bible holiness, Holy life
Publisher: Ross Thompson
Published: 2019-06-09T16:00:00+00:00



THE FAILURE TO UNDERSTAND PURITY
Using trees as a metaphor for people's lives and hearts, the Lord knocks some of our accepted teachings out of the park. Throughout the Bible God reveals his dislike for half commitment or double mindedness. In Revelation chapter four he expresses his wish that his listeners were either hot or cold in their response to him. If lukewarm they are in danger of being spewed out of His mouth. His preference in trees is the same: "Either make the tree good and its fruit good or make the tree bad and its fruit bad; for a tree is known by its fruit. A good man out of the good treasure of his heart brings forth good things and an evil man out of the evil treasure brings forth evil things". (Math 12:33,35) He reinforces that in another section by adding, "a good tree cannot bear bad fruit and a bad tree cannot bear good fruit". (Math 7:18) We are either one or the other.
The New Testament provides no evidence at all for believing we have two natures - a sin nature and Gods nature, nor for the idea we sin continuously and must confess our sins daily to stay in fellowship with God? Those ideas are saying Christs atonement was inadequate. Complete purity or complete defilement is a constant theme in the New Testament. Mathew 5:8, "Blessed are the pure in heart for they shall see God." Blessed are those who's whole heart is pure. Titus1:15, "To the pure all things are pure, but to those who are defiled and unbelieving nothing is pure; but even their mind and conscience are defiled." Some translations have 'To the pure in heart all things are pure.' Here again we have only two sorts of people – the pure or the defiled and unbelieving. Revelation 22:11, "He who is unjust, let him be unjust still; he who is filthy, let him be filthy still; he who is righteous, let him be righteous still; he who is holy, let him be holy still." I am not sure why righteousness and holiness are separated here. It may be a response to the two states of defilement mentioned.
Download


Copyright Disclaimer:
This site does not store any files on its server. We only index and link to content provided by other sites. Please contact the content providers to delete copyright contents if any and email us, we'll remove relevant links or contents immediately.