Hello, Tomorrow!: The Transformational Power of Vision by Cindy Trimm
Author:Cindy Trimm [Trimm, Cindy] , Date: July 28, 2020 ,Views: 209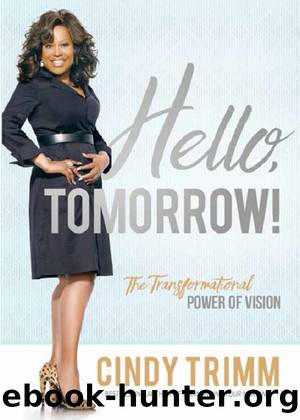 Author:Cindy Trimm [Trimm, Cindy]
Language: eng
Format: epub
Tags: Religion, Christian Life, Personal Growth, Spiritual Growth, Christian Church, Leadership
ISBN: 9781629995496
Google: Ho1oDwAAQBAJ
Amazon: 1629995495
Publisher: Charisma House
Published: 2018-09-03T23:00:00+00:00



A REALITY YET UNBORN TO TIME
In the TV series The Men Who Built America, the director helps us conclude that we could never think of the United States of America being the superpower it is today if not for visionaries such as Rockefeller, Carnegie, Vanderbilt, Morgan, Ford, and others. They were men who sculpted the present until it looked like the future they envisioned. They defied time and stretched their minds, built capacity within their employees, and pushed the envelope of their industries until they mirrored what they believed was possible. Their ideas became the precursors to the realities we now take for granted. From the light bulb to the library, from cars to cartoons, from airplanes to air-conditioned homes, they each began with a "what if " that ended in a breakthrough of innovation that continues to fuel our global economy.
Vision is the precursor of innovation. As imaginer Walt Disney is quoted as saying, "We keep moving forward, opening up new doors and doing new things, because we're curious . . . and curiosity keeps leading us down new paths."¹¹ Vision is a powerful motivator. A dynamic vision causes everyone who hears about it either to want to get involved or pursue a vision of their own.
Newton's first law of motion states that an object at rest will remain at rest until an external force acts upon it. Vision acts as an external force to propel one into the motion of pursuing something. How you picture your life unfolding affects how it will unfold. It affects how you will live, love, grow, succeed, and prosper in life. If that which you gaze upon elicits awe and wonder, it will be replicated until you are living an awe- and wonder-filled life. If, however, what you focus on produces fear and dread, then you will experience a fear- and dread-filled life. Your life can be changed by whatever you dare to focus on or envision.
A vision is the great equalizer. It is a perpetual and dynamic resource for everyone to access and gives us the freedom to form the end results that can revolutionize the world. Vision does not consider current skills, education, or training, so don't second-guess your ability to fulfill your vision. If God gave it to you, He will also give you the opportunity to gain the experience you need to bring it to pass. Experience comes when you exercise your will to accomplish something, no matter how massive, daunting, or impossible it may seem. A vision will help you to overcome the seemingly insurmountable.
A vision is God's plan revealed to man. (See, for example, Exodus 25:9, 40; Hebrews 8:5; 1 Chronicles 28:11–12; Jeremiah 29:11.) It is a heavenly pattern given to a person who causes it to become a reality. As I mentioned earlier, ideas are spiritual entities, and the spirit realm is actually the causal realm. Therefore when you embark upon the task of writing your personal vision, you are actually tapping into a prophetic realm. Visions are spiritual realities that point man to the existence of God.
Download


Copyright Disclaimer:
This site does not store any files on its server. We only index and link to content provided by other sites. Please contact the content providers to delete copyright contents if any and email us, we'll remove relevant links or contents immediately.