Finally Free: Fighting for Purity with the Power of Grace by Heath Lambert
Author:Heath Lambert [Lambert, Heath] , Date: November 23, 2020 ,Views: 19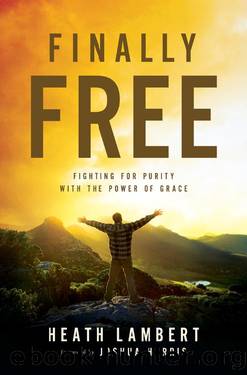 Author:Heath Lambert [Lambert, Heath]
Language: eng
Format: epub
Publisher: Zondervan
Published: 2013-08-06T00:00:00+00:00



From Danger to Delight: The Lovely Wife
As God turns the page from the forbidden woman of pornography to the lovely wife of biblical marriage, he makes several observations about this new woman.
First, God makes clear that the intimate relationship of marriage is to be shared with no one else. He compares the marriage relationship to a fountain and states, "Should your springs overflow in the streets, your streams of water in the public squares? Let them be yours alone, never to be shared with strangers." The spring of sexuality is to be shared between you and your wife. You are not supposed to partake of water from anyone else's well or let them share yours. The call to be married is the call to fight for an exclusive sexual relationship shared with nobody else.
Next, God tells us we are to rejoice in the wife of our youth. I have no statistics on how long the average career is for actresses in pornography, but I'll bet it's pretty short. I'm confident there are no porn actresses who are sixty years old. Probably not even forty. Why not? Because selfish men who consume porn like their women young. For such men, there's no interest in wrinkles, liver spots, or white hair. There's no attraction in crow's-feet, varicose veins, and sagging skin. In other words, there's no interest in real women—women who grow older and suffer health problems. As soon as time steals away the youthful faces and tight bodies of a porn actress, the men who used to ogle them find them gross and disgusting.
This is a sinister corruption of God's plan for how men are to treat women. A man is created for a lifelong covenantal relationship with a woman. They marry, raise children together, and enjoy life together in a relationship of mutual trust, respect, and faith in God. A man's life is not designed to be an endless search for different women, always on the prowl for those who are younger and more attractive. In 1989, Steven Curtis Chapman recorded a song titled "I Will Be Here" about staying devoted to his wife until they were parted by death. As Chapman reflected about growing old with his wife, he sang, "I will be here to watch you grow in beauty." Men who are obsessed with porn cannot understand what this means. Their conception of beauty is dependent on the appearance of a woman on a screen or in a magazine. It cares nothing for the beauty of character, of dependence in relationship, of faithfulness and shared intimacy over many years together. A man is created to marry a woman and to grow in love for the wife of his youth as they each grow older together. God commands this because he wants you to love your wife's whole person, not just her outward appearance. God commands this because he has designed this kind of love to be the most deeply satisfying kind of love, far sweeter than the honeyed lips of the adulterous woman.
Download


Copyright Disclaimer:
This site does not store any files on its server. We only index and link to content provided by other sites. Please contact the content providers to delete copyright contents if any and email us, we'll remove relevant links or contents immediately.