Daring to Live on the Edge: The Adventure of Faith and Finances by Loren Cunningham & Janice Rogers
Author:Loren Cunningham & Janice Rogers [Cunningham, Loren & Rogers, Janice] , Date: July 9, 2020 ,Views: 98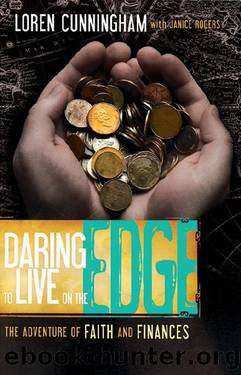 Author:Loren Cunningham & Janice Rogers [Cunningham, Loren & Rogers, Janice]
Language: eng
Format: epub
Amazon: B004P5NQ5C
Published: 2011-02-22T06:00:00+00:00



chapter ten
How to Give
HAS THIS HAPPENED TO you? You are sitting in your car at an intersection, in the lane closest to the curb. There standing at the curb is a shabby family—a man, woman, and one child. The man is holding up a sign, "Will work for food." What do you do?
You go home, slump into a chair, and begin sorting through your mail. A bunch of bills, some ad fliers, and two newsletters. One is slick and professional. It looks like someone has underlined key passages for you to read, but as you look closer, that too is printed. The other newsletter is crowded onto every square inch of a foreign aerogramme. Both of these letters ask for money to help with some good cause, like buying Bibles to distribute in Russia or feeding starving people in North Africa. Then you flip open a magazine. There, invariably, is a small brown girl with very large eyes. Just for the cost of your morning coffee break, the magazine ad says, you could feed her regularly.
How do you respond to all of this?
Some have responded by becoming hardened to all appeals. They insulate themselves from the homeless, telling themselves that if they really wanted a job, they could find work to do. Or they merely look the other way. It only takes an effort of will to forget the expression on the face of that man beside the intersection with his sign. Sit in your car and look straight ahead. When will that light change? Find a new station on the radio. Maybe even check to make sure the automatic door lock switch is in the right position.
When we are continually bombarded by need, we become either hardened or overwhelmed. Even if we limit our giving to the church, more needs are presented to us than we can respond to. How do you stay tender to needs and open to the Lord in your giving?
SPIRIT-LED GIVING
The only way to remain sane, solvent, and soft in our hearts is to ask God to direct our giving. The first step in learning how to give is to ask God. He promises that His sheep will hear His voice. Decide right now that whenever you are presented with a need, you will ask God both if you are to give and how much. If He says "no," then you can trust Him to meet the need some other way.
Sometimes not giving can be a real test of your obedience. Don Price was the leader of a small team working in Zimbabwe (then Rhodesia) back in the 1970s. One of the team was a lanky blond Norwegian named Bjorn Skjellbotten. One day in early December, Bjorn asked Don to pray with him. Bjorn had been working as a short-term missionary in Africa for one year, but now he had to return to Norway for military service.
"What I want you to pray with me about, Don, is the timing. I know it is right for me to go home, but I don't know when the Lord wants me to go.
Download


Copyright Disclaimer:
This site does not store any files on its server. We only index and link to content provided by other sites. Please contact the content providers to delete copyright contents if any and email us, we'll remove relevant links or contents immediately.