Circle of Witches by Margaret Frazer
Author:Margaret Frazer , Date: January 20, 2023 ,Views: 33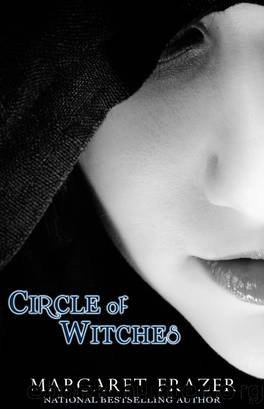 Author:Margaret Frazer
Language: eng
Format: epub
Tags: romance, thriller, love, tragedy, paranormal romance, love story, gothic, historical, romantic, secret, conspiracy, witch, charles dickens, lust, jane austen, twilight, historical adventure, historical 1800s, moors, gothic romance, amanda hocking, margaret frazer, historical adventure romance
Publisher: Justin Alexander



Chapter Twelve
But fear was not enough to stop her thoughts. Her stare was fixed on the field of green young grain rippling in the sunlight in front of her, but it was less real to her than the stark, repeating thought that Virna had truly tried to kill her that rainy day in the lane. Had truly meant to kill her. Had hoped to have her dead.
And had tried again today.
That thought startled Damaris' mind to stillness.
Virna had not come near her. Why think that she...
Damaris' throat tightened with remembrance of the moment outside of Virna's gate. The smothering that had come on her. The black terror of not being able to breathe.
That had happened to her before.
And she remembered. As simply as a shutter sliding open in her mind, she remembered the gray day four years ago and riding with Nevin and Kellan and Lauran. Remembered Virna there beside the path and then the smothering, the blackness...
Where had that memory been all this while? Where did memories go, that they could be so utterly forgotten and yet come back as easily as that? Damaris did not know, anymore than she knew how Virna had done it to her. But she was certain Virna had done it.
The difference was that when the smothering had come on her that other time, the blackness had won. This time it had not. Somehow she had fought it and won and something in her knew it had not been a little victory.
"Damaris?"
Far away in her thoughts, she had not noticed Kellan come. Usually she knew when Kellan was somewhere near, but not this time and she moved sharply with surprise, then tried to say as easily as she always talked with him, "Kellan. You weren't out long enough to ride to High Farm, surely."
"I came back early on my own. Father and Nevin went on." He sat down beside her, worriedly looking at her. "No one knew you'd gone out. Agnes is clucking through the house like a hen that's lost her one chick. Are you all right?"
The image of Agnes clucking after her made Damaris smile, but she curbed the urge to tell Kellan what she was sorting out in her mind. It was still too new to her and she was still too frightened of it. Instead, as lightly as she could, with no need to feign her tiredness, she said, "I walked too far and am wondering how I'm to manage going home. Are you here to rescue me?"
Kellan looked all around with exaggerated alertness. "There doesn't seem to be anyone else to do it. I suppose I'll have to." He made no move to shift either of them from their comfortable place, though, and neither did she, and while he began to pick buttercups and weave them together, she rested her head on her knees again and watched his hands, eased because he was there. Until he asked, "Where did you go?"
Because he asked it so simply – was so simply Kellan – she answered, "To see Virna.
Download


Copyright Disclaimer:
This site does not store any files on its server. We only index and link to content provided by other sites. Please contact the content providers to delete copyright contents if any and email us, we'll remove relevant links or contents immediately.